Local youth leader wins provincial award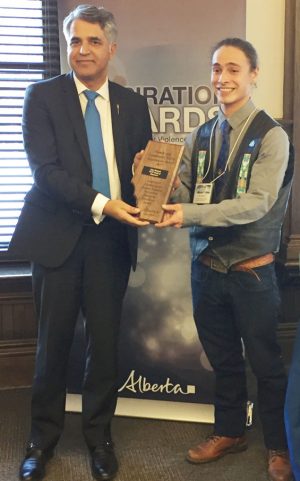 By Rob Vogt, Local Press Writer
A local youth leader has been recognized with an "Inspiration Award" for his tireless efforts in working with youth in Claresholm, and preventing violence and bullying.
John Wenlock, the leader of the Youth of Tomorrow, a Claresholm and District Family and Community Support Services program, received his award from Irfan Sabir, minister of community and social services at a ceremony in Calgary on March 9.
"I was very happy, surprised," Wenlock said of receiving the award. "I never expected to win awards.
"Even better, it complemented the Youth of Tomorrow.
"(Who) are willing to listen and put their best foot forward."
"John Wenlock's leadership in preventing family violence is inspirational," Sabir said at the ceremony. "He organizes programs for the youth to learn about fitness, health, hygiene, healthy relationships, positive behaviour, art, and volunteering. This group, comprised of mostly boys, are thriving with John's leadership. In the spring of 2017, John received the Foothills Canada 150 Medal for his contributions and volunteerism award."
Barbara Bell, director of Claresholm and District Family and Community Support Services who sponsor the Youth of Tomorrow, nominated Wenlock for the award.
"I really believe with some mentoring and guidance John will be an amazing leader," she said. "People like him.
"They want to be around him.
"He's a role model as well as a mentor as well as a leader."
In her nomination, Bell said Wenlock has done amazing things with the FCSS youth group over the past three years.
He started by applying for a grant to host a skateboard group. This group would build, design graphics and learn how to skateboard. His hope was also to lessen the negative stigma surrounding youth and especially skateboarders.
"That program was so successful that I hired John on a trial basis to start a youth program," Bell wrote.
This FCSS youth group, which its members chose to name Youth of Tomorrow, get together two nights a week to participate in organized activities or just have a night of doing their own thing in a safe and caring environment.
"This group comprised of mostly boys, some of whom come from much neglected families and feeling like they don't have a place in the community, are now thriving with John's leadership," Bell wrote.
Wenlock has organized programs for the group to learn about fitness, health and hygiene and healthy relationships and appropriate behaviour. He has found someone to teach them the art of journalling and how art can help with healing the soul.
"He's not judgemental," Bell said. "He's very accepting of everyone."
The Youth of Tomorrow have also given back to the community volunteering at numerous community events such as Volunteer Appreciation, the Claresholm Women's Conference, Longest Day of Play, the Claresholm and District Health Foundation's events, and assisting the seniors' drop-in centre with regular cribbage tournaments.
"The seniors love the volunteers and look forward to their times of interaction," Bell wrote. "Through volunteering the youth are gaining self-esteem along with the experience of feeling warmth, safety, love and connection. Serving the community also helps bring these socially isolated kids into the light; they now have a reason to participate and feel a sense of belonging."
The Youth of Tomorrow do some fundraising activities as well, such as a barbecue on Canada Day. The proceeds allow them to go on field trips to a trampoline gym, wave pool, or some other fun place.
"John can be seen leading the way with a smile on his face and a positivity that is rare to find," Bell wrote. "John is extremely humble and does not seek praise or look for any recognition, but is simply happy to continue serving these youth and the community any way he can. He is a valuable and respected asset to this group and community. He is dedicated and dependable and the kids love him and look up to him for his guidance.
"John, put simply, is our inspiration."
Photo –
inspiring – John Wenlock, who works with Claresholm and District Family and Community Support Services to lead the Youth of Tomorrow, recently was awarded an Inspiration Award from Alberta Community and Social Services. Here he is at right accepting his award in Calgary from Irfan Sabir, minister of community and social services. Photo submitted