Local players part of provincial silver medal winning team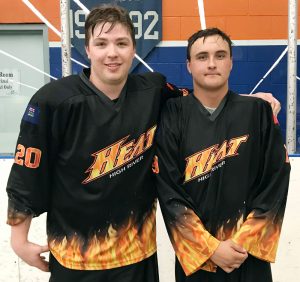 By Rob Vogt, Local Press Writer
The High River Heat took silver at the recent provincial championships and two players from Claresholm played an important part.
Jarrid Baxter and Dustin Drake were part of the team that finished second at the recent Alberta Lacrosse Association 2018 Tier-2 Junior "B" Provincials.
The Heat were also the  Cindy Grant Tier-2 Junior "B" South Conference  champions.
Head coach Tom McKinstry said the High River Heat Junior "B" lacrosse team has been a successful team for the past decade.
The team has consistently won with this year being an even better effort than the norm.
After a cumulative record of 22-2 the Heat fell one game short losing the provincial final to the Lloydminster Xtreme 9-6 in an exciting final.
"The Xtreme were the better team that day and there's no shame in losing when you give your best effort and it's not good enough at the time," McKinstry said.
He noted the Heat have been successful because of the players' hard work, skill, effort and ability. The team is made up of players from High River, Okotoks, Calgary and has grown a Claresholm contingent over the last three years.
"Dustin Drake came to us from the Lethbridge Juniors and has been the epitome of work ethic, commitment and catchability," McKinstry said. "When Dustin started taking draws the Heat won ALL of the face-offs."
"Jarrid Baxter came two years ago from Claresholm Midgets and is a powerful tank with a sweet pair of hands," McKinstry said.
"They symbolize what it means to be a High River Junior. It's been a pleasure to be their coach this year because of the way they carry themselves on and off the floor."
Assistant coach Paul Pearson concurred.
"Dustin Drake – One of the most dependable, honest, hard working unselfish players, defenders that the High River Heat have," he said. "And in the last year has become an all round team player,  and has been for this last year our best drawman winning on any given night 70 to 90 per cent of the draws (faceoffs). When you have someone like that it makes your whole team better. He has played with the Heat for three years."
"Jarrid Baxter – Jarrid is one of those types of lacrosse players that you just hate to play against, tough and relentless on you and not afraid to stir it up," Pearson said. "But would love to have him on your team. Jarrid played this year on the offensive side of the ball and, when needed, played on the defensive side as well. Quiet in the dressing room but is heard on the floor. He has played with the Heat for two years."
"I would just like to thank the both of them for their passion and dedication towards our club," Pearson concluded. "It makes coaching very easy and rewarding when you have kids like Dustin And Jarrid. The two boys were integral parts to the success we had this year. I wish both of boys all the best over the winter and I hope to see the boys back in a Heat uniform, to finish what we started in the 2018 season."