Lakers drop home opener in Claresholm to Colts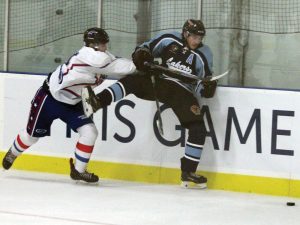 By Rob Vogt, Local Press Writer
Junior "B" hockey made its return to Claresholm on the weekend, but it was not the result the home team was looking for.
The Lomond Lakers, an expansion team in the Heritage Junior "B" Hockey League are playing out of the newly-renovated Claresholm Arena this season, and began their home schedule on Saturday, Oct. 6, by hosting the Mountainview Colts, who play out of Didsbury.
The Lakers stayed close, but eventually fell by a score of 3-1.
The teams went back and forth in the first period, and both had their chances to score, but neither could find the back of the net.
Consequently, the team skated into the first intermission scoreless.
The game remained that way until just 6:17 remained in the second period when the Colts finally beat Laker netminder Theo Paskuski.
The score remained 1-0 after two periods.
Mountainview came out strong again in the third period, upping their lead to 2-0 with 13:52 to play.
However, the Lakers closed the gap to 2-1 just over five minutes later as Will Kathol scored an unassisted marker to give the home side some hope.
But the Colts put them game away two minutes later with another goal to make the final score 3-1.
Paskuski was heroic in the Laker net, facing 58 shots and stopping 55 of them.
The Lakers returned to the ice the following night, Oct. 5, where they lost 8-0 in Coaldale to the Copperheads.
They opened the regular season in Three Hills on Sept. 21, winning by a score of 6-0. Goals came from Ryan Leeper with two, Cort Armstrong, Kyle Fry, Tyler Rohl, and Claresholm's own Gavin Burns.
The Lakers then lost to the Bisons in Okotoks by a score of 8-1 on Sept. 28. Claresholm native Clayton Billyard had the lone goal for Lomond.
Those results leave the Lakers with a record of 1-3 as of Oct. 8.
high stepping – Wacy Sandum, at right of the Lomond Lakers, fights a Mountainview Colt for the puck in the Lakers' home opener at the Claresholm Arena on Saturday, Oct. 4. The Lakers are playing their home games in Claresholm this year because their own rink is unavailable. Photo by Rob Vogt