Cannabis facility taking shape in Stavely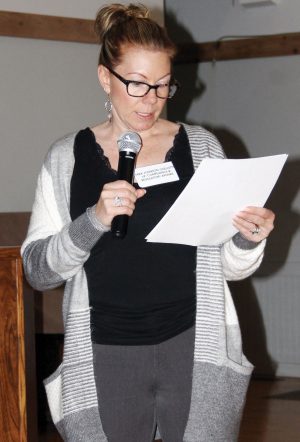 By Rob Vogt, Local Press Writer
A new, ultramodern marijuana facility is being built in Stavely, and the company behind it will soon be hiring staff.
Sugarbud held three recent job fairs, Stavely, High River and one at the Claresholm Community Centre on Oct. 2, attracting about 50 people to hear about the facility and the types of employment it will offer.
Sugarbud is an emerging Alberta-based, publicly traded cannabis company focused on growing hand crafted, select batch, ultra premium bud.
Sander Steer, who is vice-president for growing operations, infrastructure and technology, explained there is a stigma with marijuana that it is all about getting high.
He noted 90 per cent of the benefits are non-psychotropic, and help with pain, anxiety, and other health issues.
Moreover, marijuana does not interact with our medications.
"Really, it is a miracle drug," Steer said.
He then turned his attention to the actual facility itself.
Located on the north end of Stavely, it is a sterile building, where everyone has to be scanned before entering.
Everyone has to wear body suits and hair nets, and beard nets if applicable, because nothing can be brought into the building, whether intentional or unintentional, that could harm the plants and the environment.
"There's cameras everywhere," Steer said, which is a requirement of Health Canada.
In fact, everything in the facility from cutting to sale, must be kept track of.
Inside the building, rooms are 28 feet high that can accommodate 16-feet tall racks. There are three layers with 10 rows.
It is 2,000 square feet, able to hold more than 4,000 plants.
The plants are not grown from seed but are clones, that is grown from cuttings of existing plants.
A typical grow takes eight to 12 weeks, and three are three changes a year. With eight grow rooms, the facility has 24 changes a year.
After that eight to 12-week period, the plants are harvested, dried and portioned out into five-gram packets.
All told, it is about a $16 million building, Steer said.
Tara Johnson-Ouellette, who is vice-president compliance and regulatory affairs, explained Sugarbud is a start-up company looking to hire locally as much as possible.
"They will take over and run the facility," she said. "We will grow together."
Johnson-Ouellette said Alberta offers a lot of advantages for this emerging industry.
There are 120 licensed producers in Canada, with eight in Alberta.
However, Alberta has the highest number per capita of patients registered to use medical marijuana in Canada, at 24,671 registered patients per licensed producer, while Ontario has 2,694.
Alberta has a dry climate, reducing humidity and allowing for more precise environmental control, making it the best environment to grow indoors.
Alberta has some of the lowest electricity costs in the country, has a private retail framework, which is more advantageous than government-operated storefronts, and Alberta has comparably low corporate taxes.
Sugarbud took over the application for this facility from another company, who initially proposed a greenhouse facility.
However, Sugarbud has changed that building to an aeroponic facility.
"We don't want soil," Johnson-Ouellette said, because it is dirty, hard to track, and yields lower quality, lower priced strains.
"Quality is key for us," Johnson-Ouellette said.
The long-term plan in Stavely is to construct a 10,000 square foot cannabis extraction and testing facility as well in the future.
They plan to have more than 300 top-tier strains of cannabis, with all genetics profiled and mapped. There will be selective breeding to provide in-demand products, and strains that are high in various components of marijuana.
Sugarbud will own four acres in Stavely, and take over an application for a license submitted to Health Canada in January of 2014. Municipal approval has been obtained, along with full support from the local fire department, RCMP and MP.
Phase 1 of the operation will have a floorplate of 29,800 square feet, with 27,000 of that being flowering canopy. It will produce about 9,000 kilograms of dried flower production per year.
Phase 2 will add 26,000 square feet, all flowering space, with 43,200 square feet flowering canopy in three layers. It will produce about 14,300 kilograms per year.
"Our intention is to be in the community for a long time," Johnson-Ouellette said.
Johnson-Ouellette then outlined the various jobs Sugarbud is hiring for.
She said the facility will be open Monday to Friday, from 8 a.m. to 6 p.m.
They are starting small, because one of the mistakes made by other operations is starting out too big, too fast.
Still, they will be hiring about 20 people in short order, with more as phases are added.
"Our first preference is hiring local people," she said.
Sugarbud will be shipping product to the Alberta Liquor Gaming Commission who distribute it to retailers.
They also have a deal with Inner Spirit Holdings, a retailer, to provide 20 per cent of their shelf space.
Sugarbud is hoping to be in the building by November.
Johnson-Ouellette said, in an interview after her presentation, they chose Stavely because the municipality was so supportive.
"They are very open," she said. "Stavely has been absolutely outstanding.
"We have been so pleased with all the permitting.
"They want to make it happen.
"They want the jobs – it is a huge capital investment."
Photo
presentation – Tara Johnson-Ouellette, vice-president of compliance and regulatory affairs for Sugarbud, was at the Claresholm Community Centre on Oct. 2 talking about the new cannabis facility they are constructing in Stavely. Photo by Rob Vogt