Hoff named team, league most valuable player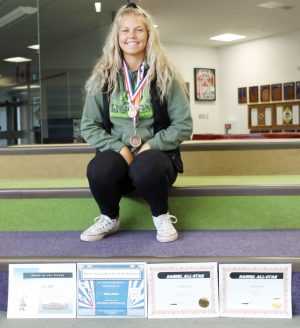 By Rob Vogt, Local Press Writer
When Sofia Hoff was in elementary school she watched her sisters Eden and Siena play rugby.
"I was just waiting until the day I could play," she said.
Hoff played her first game in Grade 6 and, from those simple beginnings, has put together an exceptional career.
Suiting up with the F.P. Walshe Flyers of Fort Macleod, Hoff was recently named the most valuable player of her team by coaches Andrew Walmsley and David Orr, and received the Order of the Flyers for playing with them for three years.
The graduating Grade 12 student at Willow Creek Composite High School in Claresholm also won an all-star in the Southern Alberta High School Rugby League and was named most valuable player in Division 2, where the Flyers play.
Hoff plays eight man, a position that enables her to be in on every play, touching the ball or giving it away.
She enjoys rugby for a simple reason.
"There is a position on the field for every single person," she said. "It's a real team sport.
"You have to work hard together."
And the Flyers did just that, winning their zone and earning bronze at provincials.
She also enjoys the camaraderie, making friends not only on her team but other teams.
Hoff has been accepted into Education at the University of Lethbridge, and intends to try out for the Pronghorn rugby team.
She has already attended a one-day, invitation-only identification camp, with try-outs in mid-August.
Another incentive is playing on the same team with her sisters. Eden is going into her final year, while Siena is going into her third year.
"Eden said 'you have to try out'," Hoff said with a smile