Granum presents awards, sends off graduates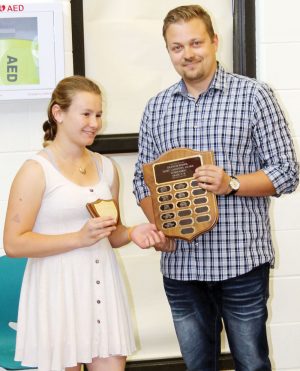 Last day of school
By Rob Vogt, Local Press Writer
Granum School celebrated achievement and honoured their graduating Grade 9 class last week.
The school held its year-end assembly on Thursday, June 28 where several awards were handed out and the school said goodbye to the departing graduates Eva Friesen, Henry Friesen and Austin Hawthorne.
Teacher Lori Austin delivered the principal's message on behalf of Jackie Kark, who was unable to attend.
She said each of the three Grade 9 students are going to go in different directions but each will be successful and Kark looked forward to hearing about where they are and what they are doing in the future.
"Eva, Henry and Austin, it has been wonderful getting to know each of you over the years and to watch each of you grow into the unique, caring and talented individuals you are," she said.
Kark added when the class moves on she doesn't know who will tell her bad jokes, terrify her with stories of daredevil stunts, and remind her how much she doesn't know about sewing and cooking.
"I have seen great change and growth in each of you," she said. "You have all worked hard and have started to discover just who you are and what you want to do. You are about to start on the next part of your journey and will continue to discover where life will take you.
"Remember, there will always be obstacles, but I know each of you will finds ways over, under or around any obstacle in your way."
The school also presented several awards:
Grade 6 of the year award, Nathan Brobbel;
Mary Laughton Award for Grade 7/8 who best reflects the mission of Granum School, Kenna Demaere;
Jeff Bryan honour roll awards, Skylar Wilde, Haley Vandenberg, and Charlie Brobbel;
Art Fjordbotten Award for most improved Grade 9 student, Henry Friesen.