Custom Cannabis facility going up on south edge of town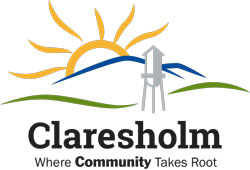 By Rob Vogt, Local Press Writer
A high-security facility to grow and process medical marijuana, promising up to 35 new jobs for the area, is quickly taking shape on the southern boundary of the Town of Claresholm on the east side of Highway 2.
Custom Cannabis, a company co-founded by brother and sister Robyn Wytinck, who is chief operating officer, and Jeff Nielsen, who is chief executive officer, is constructing a facility that, in its initial phase, will have 21,500 square feet of garden and 24,000 square feet for processing.
Four more greenhouses, totalling 17,200 square feet will quickly be added in a Phase 2. In fact, the facility is sized to run nine greenhouses.
The operation, they say, is not much different from other greenhouses.
"It truly is specialty agriculture," Nielsen said.
Each greenhouse is three storeys high, 35 feet from ground to peak, and self-contained. That allows for pest management and control and for different strains to be grown.
There is a full blackout curtain system to control the amount of light based on the life cycle of the plant, and fans on the gable of each greenhouse to protect the inside environment from mold, mildew, and pests. The idea is to minimize outside contaminants.
Each greenhouse can vent heat out or reverse the process and blow heat in, to maintain environmental equilibrium.
No odours or emissions from production, however, are released into the atmosphere.
Outside, the roof is designed to reflect light back into the greenhouse.
"We're adding as much energy as we can to the greenhouse," Nielsen said.
The greenhouses are quite high, and could act as sails in windy Southern Alberta.
To counteract that, Custom Cannabis has engineered them to move in the wind. Each one can move up to six inches to battle the wind.
The only access to the roof is by ladder, inside the building, so no one could get on the roof from the outside.
The processing part of the facility, called the header house, will have a lab, change room, areas for cutting and trimming plants, and more.
There will be a shipping and receiving area; office space for accounts receivable and payable; a call centre and more.
The general contractor is from Calgary, but they have utilized as many local contractors as they could, for services such as concrete.
The timeline for Custom Cannabis is ambitious.
They would like to be finished by November, and have the building turned over to them by December.
Once that happens, they will make the security system operational.
Custom Cannabis has to send a live link to confirm their security system is operational.
A licence to cultivate will be issued to them, after which they have to essentially do a test run.
Continued on Page 2 of the printed paper…Subscribe to read our full edition