Bantam team selling jerseys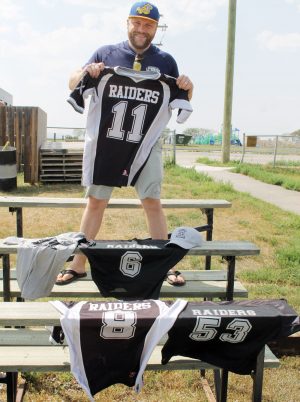 Team changes name from Raiders to Cobras
By Rob Vogt, Local Press Writer
If you once played for the Claresholm Bantam Raiders football team, or had any connection with the team, you may be interested in buying one of their old black and silver jerseys.
The Claresholm Bantam Football Association recently decided to change the name of their teams from the Raiders to the Cobras to match the name of the high school team, the Willow Creek Composite High School Cobras.
Ken Wright is the president of the association and said the timing is right, because the current uniforms have reached the end of their life.
So, instead of buying more black and silver Raiders jerseys, the association has changed to the blue and gold Cobra colours worn by the high school team.
In order to raise funds for the jerseys, which have already been ordered, the association is selling off the old Raider jerseys for a suggested donation of $50.
The helmets still have a few years left, so they will still be used by the teams until they reach the end of their life.
There is also a variety of other Raider merchandise available as well, including hats and t-shirts.
The association is offering a sponsorship opportunity as well.
A banner hung on the fence of the athletic field, with the name of the sponsor, is available for $300.
Anyone interested in purchasing any Raiders merchandise can contact Scott Fairs at 403-795-0539 or by e-mail at fairss@lrsd.ab.ca.