Councillor involved in incident; vows to stay on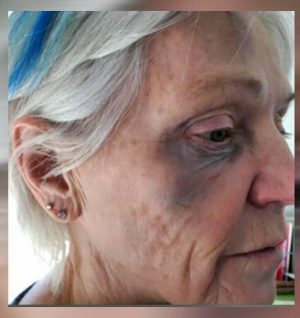 By Rob Vogt, Local Press Writer
A Claresholm town councillor has said she was assaulted in her own home over the weekend, and vowed she will continue on as a councillor.
With a black eye and a bruised right arm, Coun. Donna Courage addressed a crowd of about 40 people just before Monday night's town council meeting began to explain what happened.
"I was a victim of a vicious home invasion where I was beaten to the point where I was hospitalized," she said, reading from a prepared statement.
She went on to say she hoped mayor and council would officially support the investigation, and the incident has been documented by the RCMP.
"I have served approximately 90 days as councillor and I have been bullied, berated and slandered in public, all for speaking out and doing what I thought was right for the people who elected me. I know of no other town where you are beaten for these efforts. This is not what I signed up for," Courage said to the crowd.
"Although your message was received loud and clear with this physical assault, I am continuing to stay on as a councillor."
Mayor Doug MacPherson then addressed the crowd.
He said council does not condone violence.
"We will be releasing a statement that we do not," he said.
Then he turned to Courage.
"I am glad to hear you are not quitting," he said.
On the afternoon of Jan. 23, MacPherson issued a statement on behalf of the town.
"It has been reported to Town of Claresholm council that there was an incident on Saturday, Jan. 20, 2018 involving one of the council members," the statement reads.
"This incident has been reported to the RCMP Claresholm Detachment who is handling the investigation. Council fully supports this council member and the RCMP in this matter and does not condone the behaviour exhibited in the incident.
"Council is elected to bring divergent views to the council table for discussion and every member of council should feel free to voice their concerns without fear of repercussions.
"Council would like to ask the ctizens of the Town of Claresholm to band together to support the community as a whole and work together to move the community into a successful future that we all know Claresholm deserves.
"The Town of Claresholm will not be making further statements on this matter as there is an ongoing investigation."
On Tuesday afternoon, Jan. 23, CTV Lethbridge was reporting Courage had resigned.
However, when Courage was reached for comment about 4:30 p.m. that afternoon, she stated she was sill a member of town council although she characterized the situation as "in flux".