Citizen of the Year presented to outstanding volunteer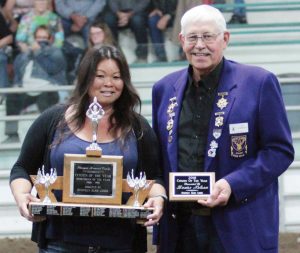 By Lawrence Gleason Local Press Writer
Stavely's 2018 award for Citizen of the Year goes to Louise Nelson. The award was presented midway through the Stavely Amateur Rodeo events on Saturday, Aug. 25 at the Stavely Arena by Elks member Ian Sundquist, calling Nelson an "outstanding member of our community." Nelson's volunteerism includes many years with the Stavely Elementary School parents advisory committee.
"She volunteers at the school, helping in the class and the kitchen, where ever is needed," Sundquist said, over the arena microphone to the capacity crowd at the rodeo event.
Nelson has also sat for 10 years on the Stavely education board and been part of Stavely skating club for over 15 years. "She was on the Claresholm and District Health Foundation board from 2001 to 2011, and has been an ongoing volunteer with the foundation, helping out in fundraising events, doing whatever she can, flipping burgers, cleaning up, staying late and so much more," said Sundquist, adding Nelson is also a volleyball and badminton coach.
The Stavely Citizen of the Year Award has been presented by the Elks since 1991.