Peewee Raiders open with home win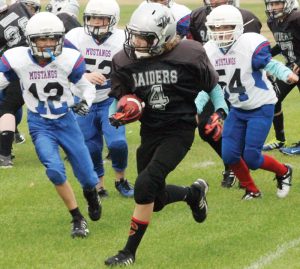 By Rob Vogt, Local Press Writer
The Claresholm Peewee Raiders football team got off to a great start, winning their home opener under the lights last week.
The Raiders hosted the Pincher Creek Mustangs on Wednesday, Sept. 13, winning by a score of 27-0.
Claresholm used a variety of runners throughout the game.
On their opening drive Cheyenne Symens ran the ball eight yards; Nate Wright ran it 14 yards; Andrew Meek took it 12 yards; Wright ran another 14 yards; and Sierra Perry capped off the scoring drive with a five-yard run for a touchdown to make the score 6-0.
Wright then added the convert to up the score to 7-0.
Late in the first quarter Jaxon Auld would recover a Mustang fumble setting up the Raiders with great field position.
Wright took it from there, running 38 yards for the touchdown making the score 13-0. Elliot Penner then kicked the two-point convert to make the score 15-0.
In peewee football the converts are opposite of regular football. In order to encourage the kicking game, a kicked convert is worth two points, while running the ball into the end zone is worth one point, the opposite of regular football.
Before the half ended, Claresholm got the ball after Pincher Creek turned it over on downs and Ty Ferguson ran 28 yards; Tyce DeJong ran five yards; and Kyler Mazerolle ran seven yards for the touchdown and a 21-0 lead at halftime.
The only scoring of the second half came off an 98-yard touchdown run by Wright in the fourth quarter to make the final score 27-0.
This year's Peewee Raiders are made up of Andrew Meek; Kyler Mazerolle; Elliot Penner; Ty Ferguson; Jack Braun; Moses Smith; Nate Wright; Colby Symens; Keenan Mazerolle; Peyton Stewart; Sierra Perry; Noah Chisholm; Jaxon Auld; Tyce DeJong; Cheyenne Symens; Tyrel Gertner; and Max Buhmiller.
The coaches are Todd Buhmiller; Ken Wright; Jim Symens; and Jon Braun.