Willow Creek Composite Cobras lose a close one to another Tier-2 opponent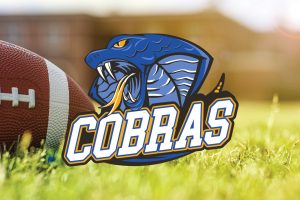 By Tim Bryson, Co-coach – WCCHS Cobras football team
It was really close, but no cigar last Friday, Sept. 22, as the Willow Creek Composite High School Cobras fell 20-17 to the Catholic Central Cougars in high school football action in Lethbridge.
The Cougars were paced by their monster running back, Noah Kinniburgh, a huge offensive line led by left tackle Ben Amantea and quarterback Parker Jans. They were able to break a scoreless game in the second quarter on a single from a missed field goal and a three-yard run by Kinniburgh. The Cobras were able to bounce back, as a 23-yard run by Zak Wright, along with pass completions to Jaxon Auld, Hayden McClung and Ethan Hall set the Cobras up deep in Cougar territory before Wright hit Auld from six yards out. A two-point convert tied the game and that's where things stood at the half.
The second half saw the Cobras get a huge break, when Wright turned a fumbled punt snap into a 45-yard scramble down to the Cougar six-yard line. A Cougar pass interference call on Auld gave the Cobras the ball at the one-yard line, before Wright took it in to give the Cobras a 14-8 lead. A two-point safety touch conceded by the Cobras from their endzone left them with a 14-10 lead heading into the fourth quarter.
By now, however, fatigue was starting to set in and the Cougars were able to start imposing their will with their offensive line. A three-play, 43-yard drive was capped by a 22-yard touchdown run by Kinniburgh to give the Cougars a 17-14 lead. The Cobras were able to bounce back, as a pass interference call (once again, it was Auld getting mugged) and a 38-yard scramble by Wright set up the Cobras in good field position for Wright's 34-yard field goal that tied the game at 17. On the ensuing drive, the Cobras were victimized by a 29-yard run by Kinniburgh out of punt formation. This set up the Cougars for a go-ahead 20-yard field goal in the last two minutes. The Cobras were able to drive one more time before turning the ball over on downs at the Cougar 35-yard line with 25 seconds left.
This was another example of the entire team leaving it all on the field against a bigger, deeper roster. The offence was paced by Zak Wright, who completed 13 of 26 passes for 151 yards and a touchdown, while running for 157 yards on eight carries. Jaxon Auld was a beast at receiver, hauling in seven receptions for 75 yards and a touchdown, while drawing two pass interference calls. On defence, the D-line was its usual feisty self, although they tired in the second half. Avery Toone was all over the stats sheet early, registering three tackles, including a quarterback sack, another tackle for a loss, and a deflected pass. Austin Perry was around the ball all night, with 10 tackles, while Tyce DeJong had another excellent night at corner.
Despite the loss, this team continues to build incredible resiliency. After falling behind on a couple of occasions, the Cobras were able to bounce back. There was never any quit all game. While the Cougars were able to make big plays when they needed to, the Cobras scratched and clawed all game long and very nearly pulled it out.
The next action is tomorrow night, Thursday, Sept. 28, at 7 p.m., at the Snake Pit against Winston Churchill of Lethbridge. The following week, we'll have another Thursday night home game, again at 7 p.m., against W.R. Myers of Taber.