Fun-packed Claresholm Fair Days planned for this weekend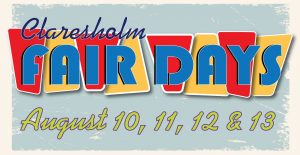 By Rob Vogt
There will be a lot to see and do when Claresholm opens its doors to the world for its annual Fair Days weekend.
"I think it's our biggest Fair Days to date," said Megan McClung, the town's engagement coordinator who is overseeing the planning. "It's definitely going to be four full days."
This year's theme is "The Good Old Days" as everyone looks back on their favourite memories of Fair Days.
It all gets started downtown on Thursday, Aug. 10, with connectFirst's annual charity barbecue from 11:30 a.m. to 1 p.m.
The action moves to downtown Amundsen Park for the rest of the day.
Fortis will be providing activities in the park from 11:30 a.m. to 3 p.m. including bucket rides, free ice cream, and animals from the Birds of Prey Centre.
The Claresholm and District Bench Show also will be accepting entries from 6 p.m. to 9 p.m. at the Claresholm Community Centre.
As day turns to evening, the chili cook-off, put on by the Claresholm Local Press, will make its return this year with judging at 5:45 p.m., and chili and hot dogs for sale at 6 p.m.
The park will also have lawn games and live music filling the air from 6 p.m. to 8 p.m.
That is all a prelude to the movie in the park. This year's feature is that classic, "The Sandlot".
The concession opens at 8 p.m. with movie set to start around 9 p.m.
Friday starts with a pancake breakfast at the Cottonwood Village Retirement Residence from 8:30 a.m. to 11 a.m.
The bench show is the centrepiece of the weekend, with entries being accepted at the community centre from 9 a.m. to 11 a.m.
Judging will occur in the afternoon and the show opens to the public at 6 p.m. running until 9 p.m., and the annual president's pie contest takes place at 6 p.m.
The annual slo-pitch tournament gets going at Millennium ball diamonds with the first game at 5 p.m. The tournament runs all weekend right through to Sunday afternoon.
Friday is also family fun night at the grounds behind the museum station building.
A kids entrepreneurs market runs from 4 p.m. to 7 p.m.
Kite crafting goes from 4 p.m. to 6 p.m. where people can bring their own kite or make one.
The tug of war makes its return after almost a 20-year absence at 6 p.m., with teams of five doing battle, separated by a water pond. Teams can enter when they arrive.
The popular pet show moves from the bench show at the community centre to its new location at the museum grounds at 7 p.m.
McClung said any pet is welcome whether a gold fish, cow, goat, dog, or anything else. For a $1 entry fee, pet owners or guardians can show off their pets.
The lawn will also be covered with old-fashioneds games such as the three-legged and sack races.
"We're trying to bring back simple games," McClung said.
The action culminates at 8 p.m. with the lawn tractor races.
They were such a hit last year, this year the races have been divided into two categories.
The modified races are for souped lawn tractor, while non-modified are for regular tractors.
Anyone entering is asked to be there by 7:30 p.m. to register.
The winners will face off in a final at halftime of Saturday's drifting demonstration.
The night wraps up with a family dance at 9 p.m., featuring music by Bridgette Yarwood of Lethbridge.
Saturday starts bright and early with a pancake breakfast at the Claresholm branch of the Royal Canadian Legion from 8 a.m. to 10 a.m. A meat draw will follow at 2:30 p.m. with doors opening at 1 p.m.
The annual Fair Days parade will begin at 11 a.m., with the same staging grounds across from the fire hall and travelling the same route as previous years.
McClung said there already 46 entries.
"It's going to be a big parade this year," she said. "And a lot of candy. Please bring a bag."
The bench show opens at noon at the community centre for public viewing. There will also be a petting zoo, sand money pile and live entertainment.
The Claresholm Lions Club will host their beef on a bun at the community centre as well at noon.
The 49th Avenue Street Market and sidewalk sale, with entertainment, will open at noon as well, running to 4 p.m.
Amundsen Park will be filled with excitement at noon too, including live music by the Studio 33 Band; a beer gardens put on by the Claresholm Skatepark Association; circus acts; games; crafts; food trucks; a bouncy house; face painting; sparkle tattoos and more.
The Claresholm and District Museum will hold their annual lemonade on the lawn and old carnival games, from 2 p.m. to 4 p.m.
A demonstration of the motorsport of drifting will start at 5 p.m. on Second Street East, with the lawn tractor finale at the halftime break.
Just down the street the Claresholm Social Centre will have an appy hour party from 5 p.m. to 9 p.m.
The action turns to the Claresholm Agriplex at 6 p.m. with a steak dinner, beer gardens by the Claresholm Skatepark Association, and wild west amateur rodeo at 7 p.m.
The day concludes with a cabaret at the community centre at 8 p.m. with music by Desperado Sound. Any one interested in singing themselves, can head over to the Claresholm Inn for karaoke at 10 p.m.
Sunday starts with an interdenominational church service at 10 a.m. in downtown Amundsen Park.
New this year is Aden's Run, creating awareness for mental health and at-risk teens. It takes place at Kin Trail starting at 11 a.m.
The Porcupine Hills Classic Cruisers show 'n shine runs from 11 a.m. to 4 p.m. at Centennial Park. It will also feature vendors, food trucks, beer gardens and live music by the band "Uncle Cranky".
McClung invites everyone to come out to Fair Days.
"It's (going to be) awesome," she said.