Cobras win home tournament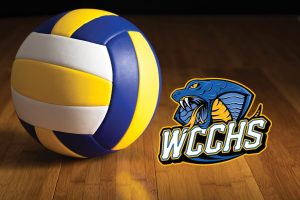 By Rob Vogt
The Willow Creek Composite High School junior high "A" girls' volleyball team won their home tournament last Friday, in a thrilling final against arch-rival Nanton.
The Cobras, made up of Grade 8 and 9 players, hosted the one-day Cobra Classic junior high "A" girls volleyball tournament on Friday, Oct. 20.
They opened by sweeping the F.P. Walshe Flyers of Fort Macleod by scores of 25-20 and 25-23.
Their second match was against the Oilfields Drillers of Diamond Valley who the Cobras also swept, this time by scores of 25-11 and 25-16.
The results gave Claresholm first place in Pool A, and a first-round bye in the playoffs, advancing straight to the semi-finals.
The Cobras faced the Matthew Halton High School Hawks of Pincher Creek in that semi-final, defeating them in straight sets by scores of 25-19 and 25-19.
That put Claresholm in the final against the J.T. Foster Raiders of Nanton.
The teams went back and forth in the first set, as Claresholm fell behind 4-0 and 10-6 before rallying to pull ahead by a score of 19-13 compelling the Raiders to call time.
The Cobras came out of that time out strong, taking control and winning by a score of 25-18.
Claresholm had found their rhythm. They jumped out to a 9-1 lead in the second set, and cruised to a 25-14 win in the set and a 2-0 win in the match,
They had won the 2023 Cobra Classic junior high "A" girls volleyball championship as the gym erupted in celebration.