'Cinderella' receives 11 nominations for community theatre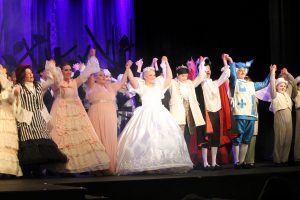 By Rob Vogt
The Claresholm Arts Society has earned 11 nominations for its production of "Cinderella".
On July 24, Calgary's Alliance of Community Theatres announced the nominations for the 2023 Community Theatre or CAT awards celebrating the best of community theatre in Calgary and neighbouring communities.
A total of 17 productions were nominated from 12 different companies. There were four companies new to Calgary's Alliance of Community Theatres this year including the Claresholm Arts Society.
"Cinderella" received nominations in a broad range of categories:
Outstanding Performance by a Leading Role in a Musical
• Stephanie King as Ella.
Outstanding Performance by a Chorus/Ensemble in a Musical
• Terry Butler, Linda Stanley, Vivienne O'Neill, Isabella Chiasson, AJ Vadnais, Felipe Quinteros, Kim Hinds, Darla Slovak, Florina Petitgean, Kennedy Hazelaar, Annalisa Harrison, Katelyn Braun, Brenda MacDonald, Arden MacDonald, Ivy Van Rootselaar, Rachel McGarry, Emery Blake, Mark Penner, and Ella Centola.
Outstanding Stagecraft
• Peter Morton, John DeDominicis, Barry Wood, Norm Foxcroft and Martina McGarry.
Outstanding Costume Design
• Dana McLeod, Shelby Florence, Lyndsay McAleer, Michelle DeDominicis and Grace Boutland.
Outstanding Lighting Design
• Thaniel Franz.
Outstanding Engineering/SFX (Musical)
• Alec Harrison, Emilea Harrison and Sebastian DeDominicis.
Outstanding Direction of a Musical
• Peter Morton.
Outstanding Performance by a Supporting Role in a Musical
• Laci McLeod as Gabrielle;
• Tracey Ohler as Madame.
Outstanding Musical Direction
• Michelle DeDominicis.
Outstanding Production of a Musical
• Rodgers and Hammerstein's Cinderella, Claresholm Arts Society.
"As it is our first year in the awards, we are very honoured and excited to have had so many nominations and in so many different categories. It is just a pity everyone from the team could not be nominated, for no one was more important to the show than anyone else." says director Peter Morton, and adds "Fingers crossed and break a leg!"
The winners will be announced in person on Saturday, Sept. 9, 2023 at 7 p.m. at the Telus Spark Science Centre in Calgary.