Bantam Football Cobras blast Lethbridge Coyotes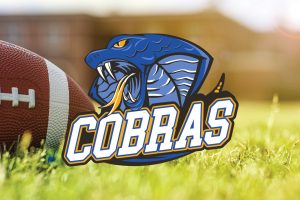 By Rob Vogt
The Claresholm Cobras bantam football team got off to a great start in Southern Alberta Minor Football Association play last week.
The Cobras hosted the Lethbridge Coyotes on Thursday, Aug. 31, running away with a 37-6 victory.
It was the Cobra defence who started the scoring, as Jax DeJong tackled the Lethbridge ball carrier in their own end zone for a two-point safety touch.
That also meant Claresholm received the ball.
Quarterback Briggs Baker promptly moved the Cobras down the field, connecting with Braydon Baird on a pass and run touchdown and an 8-0 lead.
Easton Wright then added a two-point convert to run the score to 10-0 for Claresholm.
The Cobras were in business again later in the quarter. A botched Lethbridge snap on a third-down punt attempt gave Claresholm the ball on the Coyote 39-yard line.
This time Baker kept the ball and ran it in for a touchdown, upping the Cobra lead to 16-0, and that's how it stood after 15 minutes of play.
Part way through the second quarter, the Cobra defence struck again.
After pinning the Coyotes behind their own one-yard line, the Cobra defence knocked the ball loose in the Lethbridge end zone. Wright pounced on it for another touchdown and a 22-0 lead.
The teams then went into the halftime intermission with that same 22-0 score.
The Coyotes inched closer to Claresholm in the third quarter, capitalizing on a Cobra turn over, turning it into a touchdown, and cutting the Claresholm lead to 22-6.
Once more the Cobra defence got the ball back for their offence with great field position.
This time, Josh Penner recovered a fumble on the Coyote 19-yard line.
Baker wasted no time, running the ball in for another touchdown and a 28-6 lead.
He kept the ball again for the two-point convert, making the score 30-6 after three quarters.
The Cobra defence then set up the lone touchdown of the fourth quarter, as Carter Friesen intercepted a Coyote pass and took it to the Lethbridge 36-yard line.
This time DeJong ran the ball in for a touchdown, increasing Claresholm's lead to 36-6.
Baird then kicked the point after to make the score 37-6.
There would be no further scoring, as the game ended with that 37-6 win for the Cobras.
The peewee Cobras also played Thursday night, dropping a tough decision to Magrath.