Van Langen named Claresholm 2022 junior citizen of the year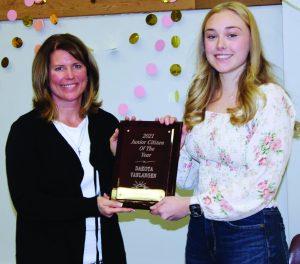 By Rob Vogt Local Press Writer
Dakota Van Langen, a student at Willow Creek Composite High School, is Claresholm's 2021 junior citizen of the year.
The award was presented at the Claresholm Volunteer Appreciation on April 26 at the Claresholm Community Centre by Tania Smeltzer, representing the company sponsoring the award, who read the nomination.
"Dakota is one of the kindest, most thoughtful young people I know," she read. "The way that she just sees that things need to be done, or people need to be helped is nothing short of astonishing.
Van Langen played volleyball at the school where she was not only a leader, but gave up playing time so others who did not get much court time could play.
She also helped prepare for tournaments. During the pandemic, there were more jobs to do, such as preparing passes for people to watch, and she did that too.
On top of that, Van Langen would keep score or referee younger students.
Van Langen was also there on the first day of school to help new students to the school. She helped take them on tours, assisted them with lockers, and made them feel welcome.
Since then she has volunteered throughout the school, including a commitment to be the scorekeeper for every high school, boys' and girls', home league games and tournaments. In addition to scorekeeping, she helped set up the gym before games and put things away afterwards.
Van Langen has been on the yearbook committee five years. It met once a week, but she put in countless hours of her own time, and during the summer to complete the yearbook.
She has also been a member of the student leadership program for many years first at West Meadow and now the high school, where she has worked to bring fun activities to her fellow students and staff members. She has attended many conferences and given up her own time to learn to be a more effective leader.
Outside school, Van Langen volunteers with Alberta Health Services at the Claresholm General Hospital where she supports patients with comfort items. She works as the digital programs coordinator for the BGC Foothills Club, formerly the Boys and Girls Club of the Foothills. She also volunteers in a variety of programs to support children and youth, and dedicates a great deal of time organizing and coordinating food security and social connections programs.
Through all her volunteer work, she still carries a heavy load academically, maintaining a high average.
Her goal is to enrol in biomedical sciences at the University of Calgary and ultimately go to medical school and become a cardiothoracic surgeon.
"Dakota has the whole package of being a dedicated, driven and compassionate role model for her school, community and the world in general," Smeltzer concluded.