Senior Thunder alumni tournament coming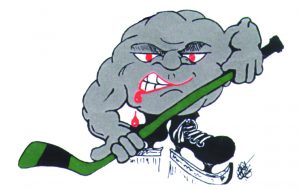 By Rob Vogt – Local Press Writer
Thirty years ago the Claresholm Arena would pulsate Friday and Saturday nights with the sights and sounds of the Claresholm Thunder senior hockey team.
Made up of local players, many who came through the Claresholm Minor Hockey Association system, the Thunder played a lot of memorable games in the Ranchland Hockey League from 1991 to 2002.
Now, a group of alumni has formed to host an alumni tournament from March 24 to 26.
Eight alumni players will captain a team each, and choose their teams in an NHL-style draft, based on skill level.
The eight teams will be divided in two divisions of four each, and play a round-robin in their divisions.
Playoffs will see the top teams play off in each division, second place teams play each other and so on.
The tournament is open to anyone to watch, and admission is by food bank donation.
A total of 43 alumni have registered, and it has since been opened to the children of alumni then to Claresholm Minor Hockey alumni.
So far, participants have come from as far away as Newfoundland, B.C., and Saskatchewan.
There are still spaces available, but they are going fast.
The fee is $200 which includes a jersey, socks, and a meal ticket, with proceeds going into a charity fund that will be disbursed back into the community by the tournament committee.
The weekend will also feature a silent auction, bar upstairs, progressive 50/50 and a hockey bag booze raffle.
Tickets for the progressive 50/50 and raffle will go on sale in January.
The event promises to bring a lot of people back to town for that weekend.
Anyone interested in participating, making a donation, or more information can visit the Facebook group "Claresholm Thunder Alumni Charity Hockey Tournament" or e-mail Jennifer Mackin at claresholmthunderalumni@gmail.com (no dashes or spaces).