Fifty people hit the east side streets for 'Heroes Walk'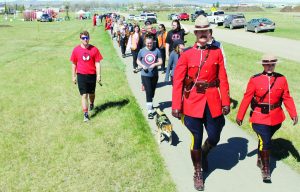 By Rob Vogt Local Press Writer
It was a chance to raise money for a good cause and meet some local heroes.
The Claresholm Local Press, Your Dollar Store With More, and Claresholm and District Family and Community Support Services hosted their first annual "Heroes Walk" at east side Patterson Park on Saturday, May 14.
The event attracted 50 registered walkers and raised a total of $690, with $420 from registrations and $270 from a barbecue.
Proceeds from the "Heroes Walk" go to the "Community Creative Youth Fund".
The goal of the fund is to help children and teens in need to participate in creative activities.
It can be anything from Brownies, Guides, and Scouts to 4-H, music lessons, art classes, and more.
Organizers would also like to put on workshops for children and youth on topics such as coding, art, or anything else creative they may be interested in.
The application process will be similar to that used for KidSport, which provides registration fees for children and youth in need who want to participate in sports.
Participants came decked in capes and masks, and had a chance to meet local heroes. They included:
• Members of the RCMP;
• Claresholm Mayor Chelsae Petrovic, the first female mayor in the town's history;
• Seth Roemmele, who played college football in the United States;
• David Poulsen an award-winning author and rodeo announcer, who came to the event as the hero known as "Writer Man";
• Jason Hemmaway, who overcome the loss of a portion of his leg to inspire everyone.
The RCMP also used their radar gun to clock how fast participants ran, from children to adults.
The fastest time was turned in by Roemmele who came in at 28 kilometres per hour.
Organizers said the plan is to make the "Heroes Walk" an annual event.