Claresholm Christmas Hamper Program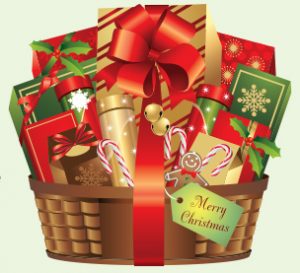 Christmas Hamper Program In Full Swing
It is a chance to make sure no one goes without a Christmas dinner this season.The annual Christmas Hamper program is under way for another season, and organizers are seeking the community's support.The program was started more than 30 years ago by Paul Rockley, who was the publisher of the Claresholm Local Press at the time.It remains a program of the Local Press, who works in partnership with the Claresholm Food Bank.
"It provides food for needy families over the Christmas season," says Roxanne Thompson, organizer and former publisher of the Claresholm Local Press.
The program distributes an average of between 130 hampers per season.
Cash donations are appreciated, and cheques can be made payable to "Claresholm Christmas Hampers" and be dropped off at the Local Press office downtown, across from the post office.
Donations of non-perishable food items, such as canned vegetables, soup, cereal, and peanut butter, are gratefully accepted and can also be dropped off at the Local Press office. People are asked not to donate clothes or shoes though.
If anyone has a large amount of non-perishable food items, arrangements can be made to drop it off directly at the distribution centre.
Cash donations are used to purchase items such as a fresh turkey or ham; oranges; potatoes; vegetables; and to supplement donations for whatever might be missing in each hamper.The deadline to provide donations of cash or non-perishable food items is Dec. 12.
Thompson notes the Shop of Wonders is collecting toys. "Toys are appreciated, but food is the greatest need," she emphasizes.
Applications to receive a Christmas hamper are available at the Claresholm and District Family and Community Support Services office at the Town of Claresholm Multi-Use building.
Thompson says if anyone knows of someone in need, they can submit an application on their behalf, but contact information for the family receiving the hamper must be provided.The deadline for applications is Dec. 12.
The Christmas hampers will be delivered on Dec. 22 between 9:30 and 11 a.m. Anyone interested in volunteering to deliver hampers, or for more information can contact the Claresholm Local Press at 403-625-4474.