WCCHS Cobras rally for first win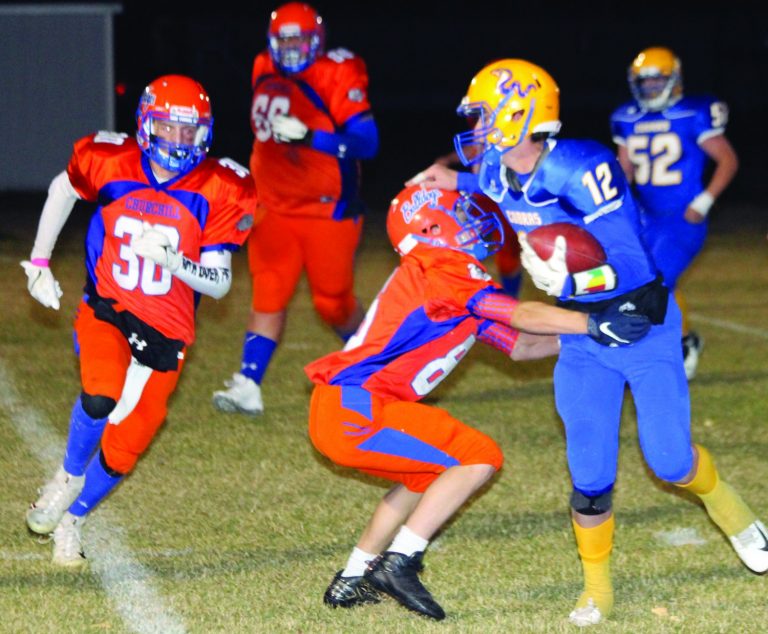 By Tim Bryson, Coach of the WCCHS Cobras
The Willow Creek Composite High School Cobras overcame a poor start to rally for their first win of the season, beating Winston Churchill of Lethbridge 20-15 in high school football action last Thursday, Oct. 7.
After giving up a single point on a missed field goal on their first series, a fumbled punt snap gave the Bulldogs great field position at the Cobra 10-yard line before scoring to make it 8-0. Another single on a punt extended the lead to 9-0.
The Cobras managed to turn the tide in the second quarter and got on the board when quarterback Nate Wright hit Jaxon Auld on a 35 yard touchdown pass.
Another botched punt attempt at the start of the third quarter gave the Bulldogs an easy touchdown to extend their lead to 15-6. The Cobras kept up the pressure on defence and picked up excellent field position when Blake Davis recovered a fumble at the Bulldog 48-yard line. The offence converted twice on third and 10 before Wright hit Auld for another touchdown reception from 20 yards out.
The fourth quarter saw the Cobras continue to press. A great punt by Elliot Penner pinned the Bulldogs at their one-yard line. Two plays later, Andrew Meek recovered his second fumble of the game in the endzone for a touchdown and the winning points. The Cobras had some nervous moments near the end before Dallas Henshall sealed the win with an interception on the final play.
The team continued to show improvement in all areas. Nate Wright completed 13 of 27 passes on a cold, windy night for 154 yards, two touchdowns, and no interceptions. Auld had six receptions for 80 yards, while Willis Dixon picked up 65 yards on six receptions.
Andrew Meek was all over the field on defence, recovering two fumbles, forcing another and registering a quarterback sack. Willis Dixon had eight tackles, while Nate Wright picked up his third interception of the season. Zack Bell blocked a punt, which Elliot Penner recovered.
The next action is this Friday in Lethbridge against Chinook. Fans are allowed in, but anyone over 12 must show proof of vaccination. Kickoff is at 7:30 p.m.