Town sells old town office land for $390,000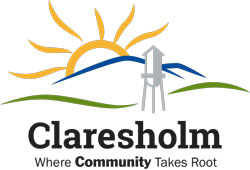 By Rob Vogt, Local Press Writer
The Town of Claresholm has sold the land that, until recently, the old town office stood on for about $390,000.
At its Sept. 27 meeting, after an in-camera discussion, council agreed to accept an offer from Faith Community Baptist Church for $390,243.90 plus GST for the land located at 221 – 45 Avenue West.
Tax penalty forgiveness
Council denied a request to forgive a late-payment penalty for municipal taxes for $219.35. The ratepayer maintained they requested their utility bill be mailed and were not explicit in wanting their tax notice also mailed. Consequently, the tax notice was e-mailed and they said they did not receive it.
Council decided not to waive the late-payment penalty.
Police funding
Council reviewed a letter from Kaycee Madu, minister of justice and solicitor general, noting a recent agreement between the RCMP and National Police Federation has recently been ratified.
That agreement contains a pay increase.
Town council wrote to Madu asking who would cover that cost, feeling it should be the federal or provincial government.
Madu said, in his letter, the province believes the federal government should cover that cost, but there has been no further information.
Council also read a letter from Terry Leslie, mayor of Sundre, echoing the town's sentiment that municipalities should not be responsible to pay for this increase, and the provincial and federal government should cover the cost.
Code of conduct
Council read a second letter from Leslie, this one supporting the Town of Claresholm's position that the code of conduct should be kept as a legislated requirement for municipal council. It provides a framework for a council member's behaviour and provides each council direction and guidance for dealing with any contentious issues that may arise.
Firearms
Council reviewed a letter from Jo Tennant, mayor of Crossfield, opposing federal legislation that allows for municipalities to adopt bylaws restricting the possession, storage and transportation of legally obtained handguns because it is a matter of provincial, not municipal jurisdiction, and it could create inconsistent regulations across the country. It also targets citizens who have licences, not criminals who have already obtained firearms illegally.
Convention
Council was advised The 2021 Alberta Urban Municipalities Association convention is being held in Edmonton from Nov. 17 to 19. The 2021 resolutions book was released on Sept. 23, and council was informed they can familiarize themselves on these resolutions by visiting www.auma.ca/advocacy-services/resolutions.
In-camera
Council went in-camera at the end of its meeting to discuss two land and a personnel matter.
Upon reverting to open session council agreed to approve a request to construct a septic holding tank in the north area of town, for a trailer sales shop until such a time as municipal services become available.