Smith discusses future of Alberta's economy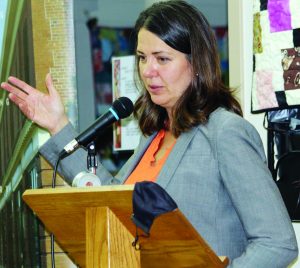 By Rob Vogt, Local Press Writer
If Alberta can get a handle on the pandemic, the province is poised to boom.
That was one of the messages Danielle Smith brought to a crowd of about 45 at the Seniors' Drop-in Centre on Sept. 21.
Smith, who has been a school board trustee, MLA, leader of Alberta's official opposition, and a current affairs radio personality is currently president of the Alberta Enterprise Group.
Her presentation was the latest installment of "Opportunities for Growth", a series of public education sessions put on by the Claresholm and District Chamber of Commerce and Claresholm Economic Development.
She explained that Alberta has to go from COVID-19 being a pandemic, to being an endemic much like the flu every season.
The way to do that is by supplementing vaccines with medication.
Smith advocates for what is called early outpatient treatment protocols, which handle the virus differently.
Now, she said, if a person tests positive for the virus, they are told to go home. If they have trouble breathing, they are told to then go to the hospital.
Smith has found a doctor who administers a protocol of drugs so patients do not have to go to the hospital.
"He's been treating thousands of patients," Smith said, adding there has not been one death, although some have still got sick
For his efforts, she pointed out, he was reported to the college of physicians and brought up on disciplinary charges.
Smith said vaccine effectiveness wears off, and vaccines are good as far as they go. However, they have to be supplemented by medications.
"I think that's the missing piece," she said.
Smith stressed it is important not to get into the mindset of the current pandemic being normal. Alberta will be held back until COVID-19 is treated as an endemic instead of pandemic.
She then turned her attention to public affairs.
She noted in the recent federal election she was glad the political parties talked about COVID. That way they did not talk about Alberta's oil and gas industry.
Moreover, the coalition that Prime Minister Justin Trudeau has to build to govern does not have to be anti-oil and gas.
Moreover, with a $600 billion COVID debt, Smith said, maybe the prime minister should make sure the economy is performing in all sectors. After all, he cannot phase out oil and gas and pay the bills.
She is also hopeful of Jonathan Wilkinson, federal environment minister, and Seamus O'Regan, minister of natural resources.
O'Regan comes from Newfoundland, an energy producing province, and Wilkinson drives a hydrogen car. Hydrogen is a resource Smith supports.
"To me, that is where the opportunity is for Alberta," Smith said.
She is the president of the Alberta Enterprise Group, which has member companies valued in the range of $10 million to $100 million.
Smith noted every member has an environmental story of some kind, and they represent what the new economy may look like.
One member recently purchased an old gas field in Leduc. They have partnered with ATCO, a cement company and a transport company. They are taking the natural gas and splitting out the hydrogen and carbon dioxide. The carbon dioxide will be piped into the ground and sequestered. What is not, will be used to enhance the quality of cement. The hydrogen will be used to power trucks.
Smith said the province already has the expertise in engineers, geologists and more, to do more of this type of thing.
"It's applying those skills in different ways," she said.
That includes developing hydrogen, and building markets for it everywhere from B.C. to California and beyond.
Another company, Smith said, is taking carbon fibre out of bitumen and ultimately making steel, so Alberta does not have to be reliant on a foreign steel maker such as China.
Part of all this innovation, Smith continued, is due to the carbon tax.
Because businesses do not want to pay $170 per tonne, they are looking to innovate.
Industry is no longer looking at carbon dioxide as a waste product, but as a feedstock. Companies are looking at how they can turn waste into money.
Carbon dioxide can be embedded in cement to improve its strength; and used to make soap, plastics, ethylene, and even vodka.
"There's no end to all of the potential of jobs and new industry," Smith said.
It does not mean having to install wind or solar panels, neither of which have net zero greenhouse gas emissions. In their production, both use fossil fuels and slave labour, Smith said.
In fact, she added, the energy industry will be at net zero before the green industry, because the green industry all rely on the fossil fuel industry.
She concluded by observing what will happen to Alberta, its economy, and growth once the page is turned on COVID-19.
"We're about to absolutely explode (with opportunity)," she said.