Skatepark association raising funds for new park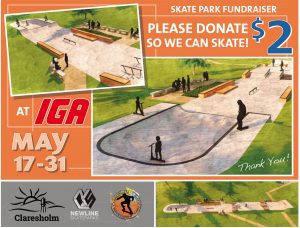 By Rob Vogt, Local Press Writer
The Claresholm Skatepark Association will be kicking off a fundraiser next week with proceeds going to the construction of a new skatepark.
Lisa Darch, president of the association, explained people who want to support the project can donate at the till at IGA from May 17 to May 31, when they check out with their groceries.
There will be signs at the till as well.
"We're excited to do it over the May long weekend," Darch said.
The fundraiser is intended to raise awareness of the project and kick off a season of fundraising. However, those activities will be determined by the Alberta Health Services guidelines to prevent the spread of the COVID-19 virus.
Planning for the project itself is well under way.
The southern portion of the former Claresholm Elementary School site has been identified as the location for the skatepark. The northern portion is occupied by the new community multi-use building and town office.
The first phase, which included the official go ahead for the project, involved Newline Skateparks walking the association through the process. Initial two and three-dimensional renderings, suited to the space, were done.
This phase cost about $12,000, paid through fundraising and donations.
With the three-dimensional renderings and the town making the space available at the old school site, the project was at the stage to get a full budget for the skatepark.
"These drawings will make us shovel ready so construction could start when they are finished," Darch said.
From the stage the project is at now to when it is ready to open, the association needs $315,000.
Darch has applied for several grants, and anticipates a lot of the needed funding will come from those grants.
However, she stressed the association will still do fundraising to raise awareness and signal to the community the project is well under way and is going to happen.
To that end, anyone who wishes to support the project can do so from May 17 to May 31 at IGA.