Memory kits offered for people living with dementia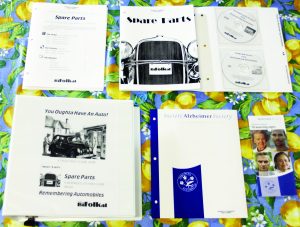 By Rob Vogt, Local Press Writer
If you are searching for ways to connect with someone with dementia or Alzheimer you might want to check out a memory kit from the Claresholm Public Library.
Memory kits are designed to help stimulate memories and conversation using music and visual cues.
They are easy to use and allow family and friends to have a meaningful visit with a person with dementia.
Memory kits focus on memory care that engages people in music-making, stimulates memories and conversations, strengthens relationships, and enhances quality of life for people with dementia.
They cover a wide variety of topics with titles such as school days; train rides; the joy of food; Halloween; songs of England; favourite things in spring, summer, fall and winter; county fairs; and work life.
Each kit provides hundreds of hours of flexible programming, and includes:
• Various video episodes with music;
• Accompanying activity booklets;
• Bonus audio CDs;
• Information folders from the Alzheimer Society of Alberta and the Northwest Territories.
Individual libraries have memory kits in their own collections and access to more than 50 memory kits through the Chinook Arch Regional Library.
For example, the Claresholm Public Library has a memory kit on the topic of cars.
Chinook Arch had 13 memory kits circulating in the regional library system.
Then, in recognition of January being Alzheimer Awareness Month, Chinook Arch announced more than 40 new kits will be added to the system in the next two to three months.
This was made possible by a $5,000 grant from the Alberta Blue Cross COVID Community Roots program, which allows Chinook Arch to purchase more memory kit materials.
Memory kits are available from local libraries in Claresholm, Stavely and Granum.
They can be found by visiting the Claresholm Public Library website at claresholmlibrary.ca or the Chinook Arch Regional Library System website at www.chinookarch.ca (no dashes or spaces) and typing "memory kits" into the search bar.