Local students show off their Skills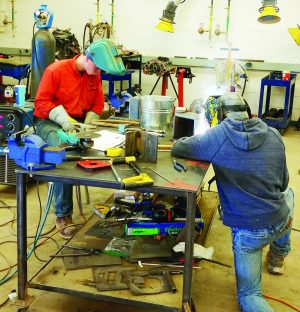 By Rob Vogt, Local Press Writer
Four students from Willow Creek Composite High School recently participated in Skills Canada Alberta's virtual Regional Skills Canada competition.
With the pandemic forcing public gatherings to be limited to prevent the spread of the COVID-19 virus, the competition was taken online where students stayed at their schools and were video-recorded by their staff advisors.
Colton Symens, a Grade 12 student, competed in cabinet making on March 2, where he was asked to make a box using dovetail joints.
Tristan Lane, another Grade 12 student, competed in carpentry on March 4, where he made a doghouse frame.
Grade 12 student Teagen Gustman and Grade 10 student Max Buhmiller competed in welding on March 3.
Symens and Gustman also enrolled in automotives but, because there was no regional competition, they go straight to provincials.
Mark Oakes was the teacher supervising the competition at the school where he ran the video camera and audio as the students worked.
Students across Alberta competed in eight events areas including baking; cabinet making; carpentry; culinary skills; hairstyling junior; hairstyling senior; video production; and welding.
Each event was held on a separate day from March 2 to 18.
The results of the competition will be announced in a live-streamed awards ceremony on March 25 at 6:30 p.m.
The top performers in each region will progress on to the virtual Provincial Skills Canada competition from April 14 to 23.