Local bull rider takes sixth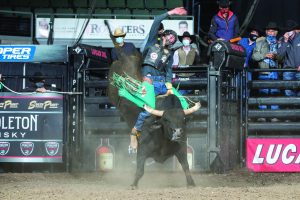 By Rob Vogt, Local Press Writer
A Claresholm bull rider turned in his third straight top-10 finish in the Professional Bull Riders, tying for sixth place at an event in Arkansas.
Logan Biever, who is the only Canadian competing in the United States, travelled to Texarkana, Arkansas for the Four States PBR Shootout Touring Pro Division event on Feb. 13.
He turned in a ride of 87 points in the opening round on the bull "Little G", putting him in a tie for fourth place with Alex Jenks of Vale, North Carolina.
They finished behind Keith Hall of Georgia who was first with 88.5 points; and Chase Dougherty of Oregon and Luis Blanco of Spain, who were tied for second with 88 points.
However Biever, 22, was bucked off in the championship round by a bull called "Nose Job" in 2.85 seconds.
The results gave Biever sixth place overall, earning 1.5 points in the world standings.
He is now ranked 54th in the Professional Bull Riders standings, trailing the top 30 by 9.17 points.
Dougherty, who was tied for second in the opening round, went on to win the event.
The Professional Bull Riders Touring Pro Division returns to action on March 5 and 6 in Abilene, Texas, at the Taylor County Expo Center.
Biever also competed in the Professional Bull Riders Whisky Velocity Tour on Friday, Feb. 19 at Rupp Arena in Lexington, Kentucky, where he was bucked off both bulls he faced, recording times of 6.59 seconds and 2.64 seconds.
The next action in the Professional Bull Riders Whisky Velocity Tour is on Friday, Feb. 26 and Saturday, Feb. 27 at North Charleston Coliseum in North Charleston, South Carolina.