Former Claresholm girl's first single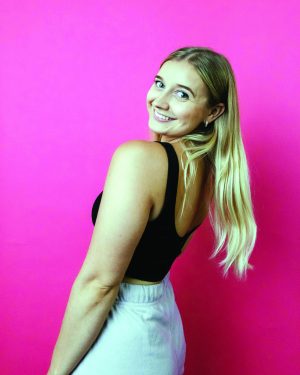 By Rob Vogt, Local Press Writer
It has been quite a journey for Claresholm native Camille Blott, from small town Alberta to big city Toronto, and musical theatre to film and television.
Now, she is standing on the threshold of her next adventure – her first single.
The song "little apartment" dropped under her artist name "millie bee" (both are intentionally lower case) on July 23 but a lot has happened to Blott to bring her to this point since she left Claresholm in 2015.
After graduating from Willow Creek Composite that year she went to St. Clair College in Windsor, Ontario, to study musical theatre performance and graduated in 2018.
Two days after graduation she and a friend moved to Toronto, and have been living there since then.
Blott worked a year in the theatre industry before she made a change.
"I always like to learn new things and challenge myself with new things," she said.
So she enrolled in a course on film, television and commercial work.
"I've shifted my focus to on-camera work," Blott said.
Her work has included everything from commercials, movies and videos to YouTube hosting and much more.
"I just like to always set new goals for myself," she said.
So, leading up to New Year's Eve, she asked herself, "What's next?"
The answer was simple.
"I want to write my own music," she said.
This year, she wanted to release and share her song.
"Halfway through the year, I achieved that goal," Blott said.
The song is called "little apartment".
"It's ultimately a song about gratitude," Blott said. "It is about feeling stuck, small, and insignificant in this big world."
However, she continued, when you practise gratitude for what you do have you can feel whole, blessed, and loved again.
"I sing about being grateful for my little apartment and for the sun streaming in," Blott said.
The process to get to that point of a finished song began in January.
"I've really been pouring my heart into it," Blott said.
She was experimenting and finding her voice, and putting songs on Instagram and YouTube for feedback.
All of them were musical theatre-type songs, with a story arc and narrative.
Yet, Blott was not sure how to find a producer. She didn't know one or have any connections, but she just knew something would happen.
"I was extremely patient," she said, adding she just focused on the music.
Then, almost two months ago, she was working on an independent music project that had a music producer.
"I reached out to him," Blott said.
His response was just what she was looking for.
"Oh ya," he said. "I produce music all the time."
"It was exactly what I wanted," she added. "It happened so quickly."
About 48 hours later she was at his studio where she had brought three songs for him to listen to.
He asked what she wanted because they sounded like musical theatre. Did she want to continue with that or go with pop, folk, or some other sound?
She decided she really want to go in the direction of pop music.
"I'm so grateful for him," Blott said. "He has helped me through the process."
She recorded "little apartment" and is now working on more original songs.
"My music is very fun, and playful, and upbeat," she said.
Blott only shared the song with three people – her best friend, roommate, and her mother Vanessa Niessen.
"They're the only ones who got a sneak peek," Blott said.
The reaction was universal.
"They loved it," she said.
"Wow!" her mom said.
Her best friend was so excited he and Blott just started jumping around their apartment.
"Everybody's been really supportive," she said.
The song has exactly the message she wants to put out in the world that people can have big dreams and be grateful for what they have and be present in the moment.
"The message is perfect," Blott said, and hopefully inspiring. "(It's) the perfect debut single."
Blott has also not forgotten her home town where not only she, but her mother were born and raised in Claresholm.
"All my formative years were in Claresholm," Blott said.
She pointed to studying with local singer and music teacher Michelle DeDominicis as well as all the recitals and talent shows she did.
"People were all so supportive," Blott said.
When she was working at Sobeys in Grade 12, everyone would ask what was she doing after graduation and be excited for her.
"Don't forget us when you're famous," more than one person said.
"little apartment" dropped on July 23 and can be found on Spotify, Apple Music, iTunes Store, Tidal, and YouTube and other music platforms.
For more information please visit Camille Blott on Instagram at @missmilliebee or check out her website
www.missmilliebee.com.