Council approves 2022 interim operating budget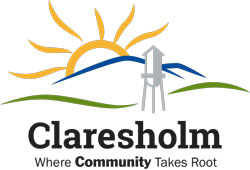 By Rob Vogt, Local Press Writer
Claresholm town council has approved the Town of Claresholm's 2022 interim operating budget with an estimated two percent increase in taxes and a 1.6 percent increase for increased police funding required by the provincial government.
This could mean an increase in property taxes depending on the assessed value of property, which is used to determine the amount of tax paid.
At its Dec. 13 meeting, council approved the budget after a report by Chief Administrative Officer Abe Tinney.
He explained the town's finance and audit committee discussed the budget, starting with a significant deficit but got it down to a balanced budget.
Adopting this interim budget allows the town to continue operating in the new year, as the budget is worked on.
Tinney noted there are still several unknowns such as grants and funding.
"I have grave concerns," said Coun. Brad Schlossberger, noting he will support the interim budget but still has a number of questions he needs answered.
Mayor Chelsae Petrovic asked if he wanted to ask those questions now or wait until funding is known.
Schlossberger said he will wait.
Coun. Kieth Carlson said there are too many challenges on the revenue and expense side and everything has to be given a harder look.
Council then agreed to approve the 2022 interim budget.
A report from administration highlighted aspects of the budget.
Revenue
The 2022 budget has an estimated $56,000 increase to policing costs.
The town has also started to see significant inflationary cost increases, especially with capital projects, but also with other supplies and materials such as water treatment plant chemicals and energy utilities.
Council has kept the interim budget to a modest two percent tax revenue increase for municipal purposes. Over and above this increase is a 1.6 percent increase for the increased police funding, and an anticipated 5.8 percent increase in the education tax requisition from the province.
During 2021, the town did not see the recovery in recreation revenue it hoped to see due to pandemic restrictions. As such, 2022 recreation revenues were kept at modest increases – still below 2018 and 2019 revenues, and with no stimulus funding or additional supports from the province to help offset these, this has put a significant amount of strain on the budget.
Council is still committed to reaching their goal of full cost recovery for utilities, so two percent inflationary increases included in the current utility bylaws are planned to move ahead.
Operating budget
There was a $308,000 increase in budgeted revenue this year over last, but a $172,000 increase in expenditures. This is largely due to a significant amount of reserve funding utilized last year to balance the budget and help the town through the significant hit it had from the pandemic and a significant cut to Municipal Sustainability Initiative operating funding.
This year the town is utilizing $23,000 compared to last year's 172,000 – a $150,000 difference. The town doesn't have sufficient reserve funds to continue this practice.