Cobras win consolation final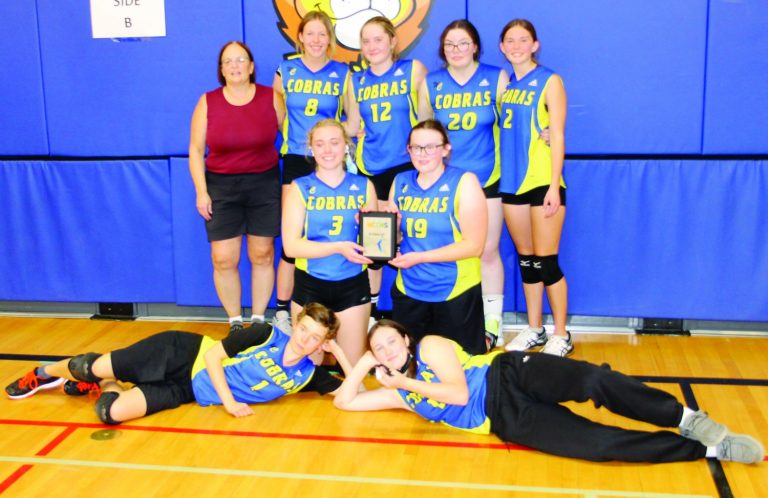 By Rob Vogt, Local Press Writer
The Willow Creek Composite High School junior varsity girls' volleyball team only lost one match on their way to winning the consolation final of their home tournament.
The Cobras hosted 14 teams in the Willow Creek Composite High School Junior Varsity Cobra Classic that ran Oct. 15 and 16 at the high school and West Meadow Elementary School gyms.
The Cobras finished second in Pool "B" of the round robin on the strength of beating Oilfields of Black Diamond by scores of 25-17, 25-17; splitting with F.P. Walshe, winning 25-11 then losing 25-23; splitting with St. Maty's of Taber, losing 25-12 then winning 25-20; and defeating Canmore by scores of 25-9, 25-10.
Those results put Claresholm in a first-round playoff game against the St. Michael's Dragons of Pincher Creek who they swept by scores of 25-19, 25-23.
That win put the Cobras in a quarter-final against LCI of Lethbridge.
LCI won the opener 25-15, but the Cobras rallied to take the second set by a score of 25-21, forcing a third and deciding set to 15 points.
LCI prevailed in that sudden-death set by a score of 15-10.
The loss put Claresholm in the consolation side and gave them a date in the consolation semi-final with Kate Andrews of Coaldale.
The teams went back and forth, matching each other point for point until Claresholm pulled ahead in both sets to sweep the match by scores of 25-22, 25-23.
Awaiting Claresholm in the consolation final was Magrath.
Again, the sets were too closer to call, but again Claresholm scored when it counted to sweep the match in straight sets by scores of 25-23, 25-23.
The win gave the Cobras the chance to hoist the consolation plaque on their home court.