Bantam Cobras advance to final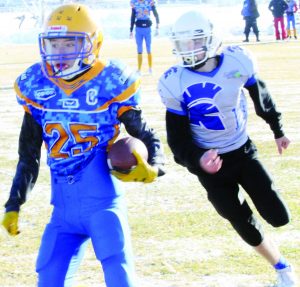 By Rob Vogt, Local Press Writer
The Claresholm Cobras bantam football team has punched its ticket to the league championship game with a thrilling win on the weekend.
The Cobras hosted the Coaldale Spartans on Saturday, Oct. 30 at the Willow Creek Composite High School field, and the two teams locked horns in an epic battle that saw Claresholm win by a score of 22-18.
The Cobras finished first in the nine-man standings of the Southern Alberta Minor Football Association with five wins and one loss.
That lone loss came at the hands of the Spartans, who came to Claresholm looking to repeat the result.
The Cobras struck first as Austin Perry returned a Coaldale punt down to the Spartan 20-yard line then punched it in himself to give Claresholm a 6-0 lead. There was no further scoring in the first quarter, but Coaldale got on the scoreboard part way through the second quarter with a field goal, cutting the Cobra lead to 6-3.
They would go ahead late in the half with their first touchdown of the game and, with the convert, led by a score of 10-6 at halftime. There was no scoring until late in the third quarter when Claresholm's Ethan Hall scored the go-ahead touchdown, then added the two-point convert to give the Cobras a 14-10 lead after three quarters.
That set up a wild final 12 minutes. The Spartans drove down, threatening to re-take the lead until Tyce DeJong stuffed the Coaldale runner on a third-down gamble, turning the ball back over to the Cobras.
Perry took it from there, breaking free from a pack of tacklers to run 83 yards for a touchdown that put the game away. Claresholm added the two-point convert on a pass from quarterback Jesse Krahn to Hayden McClung to make the score 22-10.
However, the Spartans were not done. They drove the ball back down the field scoring a touchdown with no time left on the clock then adding the two-point convert to make the final score 22-18.
Claresholm will now face Lethbridge in the championship game on Saturday, Nov. 6 in Lethbridge.
This year's bantam Cobras are made up of Austin Perry; Syler Sabey; Joey Van Rootselaar; Connar Hoekstra; Ethan Hall; Jesse Krahn; Hayden McClung; Logan Hurlburt; Tyce DeJong; Justin Rice; Colby Symens; Devon Hearn; Ben Baker; Micah Rice; Kael Smith; Griffon Cook; and Seth Ohlheiser.