Transportation society welcomes new face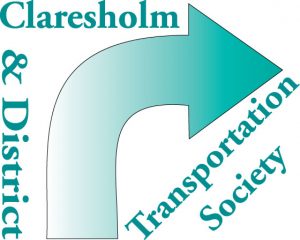 A new face will greet you by phone or in person when you contact the Claresholm and District Transportation Society.
Sally Morton began her job as the society's chief administrative officer the second week in June and she has been busy learning the role.
"It's been fabulous," she said of her first month and a half on the job.
She is glad to be back working in administration. It is work she has done in a variety of jobs first in England and later in the Claresholm area, including time at the GM dealership and the Claresholm Public Library.
Morton has a wide range of responsibilities with the transportation society.
It is Morton who arranges transportation to primarily medical appointments for seniors and persons with disabilities.
She also looks after the financials, helps with funding and grants, and reports to and is a liaison with the society's board, providing regular updates on the society's activities.
Morton is responsible for keeping the vehicles up to date, whether maintenance, inspections, or anything else as well.
She said the drivers play a big part in this, and are excellent.
Moreover, Morton is a point of contact for the transportation society for the public.
The society is governed by a board that meets monthly and is made up of representatives from Stavely, Claresholm, the Municipal District of Willow Creek and Vulcan County.
The current board members are Howard Paulsen, chair; Brydon Saunders vice-chair; Shirley Isaacson, secretary; Lise Schulze; Brian Comstock; Ian Sundquist; Jason Schneider; and Cindee Schlossberger.
The society has a fleet of five vans, four of which are wheelchair accessible, and a bus.
They will be adding another wheelchair accessible vehicle, that is on order, in September.
There are six drivers, and the society is currently looking for another one. He or she must have a Class 4 driver's licence and be first-aid trained.
"I am so grateful for them," Morton said of the drivers.
The transportation society remained open through the pandemic, although ridership was down, primarily because the majority of medical appointments were cancelled.
Morton said business has been picking up, with the society doing 45 trips in June and 50 more in July with a few days left to go. Trips are being booked for August and September as well.
"It's good to see it's picking up again," Morton said.
She added people are grateful for the service because the transportation society takes care of everything and all the client has to do is be picked up and dropped off. The society looks after everything else from driving to finding parking and everything else.
The Willow Creek Continuing Care Centre recreation department recently asked the society to do four countryside trips for their residents in August. This will involve one of the drivers taking them on a bus tour through and around our community and farms, crop fields and so on, to help give the residents a change of scenery, and to help lift their spirits perhaps, after having been in lockdown for the past few months.
The society also recently received financial donations from the Claresholm Lions Club and the Country Dancers, a group that recently dissolved.
Morton said these are gratefully accepted, and donations are always welcome.
"They help us keep operating," she said.
Anyone interested in more information can contact the Claresholm and District Transportation Society at 403-625-4455.