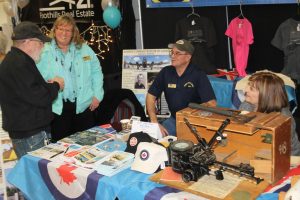 Trade expo and consumer fair draws more than 400 visitors
It was a chance to learn more about a variety of goods, services and community organizations all under one roof.
The Claresholm and District Chamber of Commerce held their annual trade expo and consumer fair on Friday, Jan. 31 and Saturday, Feb. 1, drawing about 400 visitors over two days.
The trade expo and consumer fair brought 50 booths and 45 vendors together at the Claresholm Community Centre.
"I think it went well," said Tony Walker, chair of the trade expo organizing committee.
"I heard good things from vendors," he added. "Good things from the customers."
A quick look at evaluations filled out by vendors also reflected they thought the event a success.
Donations of non-perishable food items were also collected at the door to assist the Claresholm Food Bank.
Although donations were down from a year ago, they will still help the food bank at a traditional down time in the period after Christmas.
Walker noted highlights of the weekend included great soup, stew and chicken pot pie from the concession, as well as vendors selling scores of dog food at one booth, and massage machines at another that a lot of visitors took the opportunity to try out.
It is too early to say, but the trade expo and consumer fair should be back again next year, an event that has become a tradition over the past 20 years.