Stokes named female artist of the year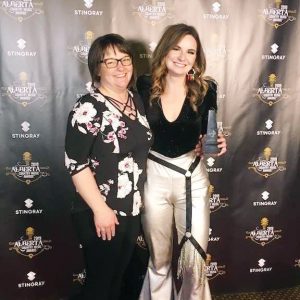 Stavely singing sensation Mariya Stokes has been named female artist of the year by the Alberta Country Music Association.
The award was presented at a gala event in Red Deer on Jan. 26, capping a night filled with memories.
"It was pretty awesome," Stokes said, in a phone interview on Jan. 28.
The evening opened with Stokes joining several other female artists on stage in singing Ian Tyson's, "Some Day Soon."
She also performed her latest single, "Christmas, Arizona".
Suspense built as the night went on, as female artist of the year was the second-to-last award announced.
Stokes wasn't nervous, she admits she wasn't thinking that much at all.
"It's kind of an overwhelming moment," she said. "I was trying to mentally prepare for both winning and losing."
Usually, nominees have a speech prepared that thanks everyone and expresses the sentiments of the person.
Stokes had such a speech prepared but, after she was announced the winner, something happened when she got on stage to accept the award.
"You get on the podium and you blank," she said.
Then she started her speech.
"I got so nervous, I started to hide behind the podium," she joked.
She was still able to get most of her message across.
"It was an incredible moment," she said. "It was a pretty special night."
Stokes, in particular, is thankful for everything her family has done, and was thrilled they were there at the awards in person to share in her triumph.
"It was so wonderful, they've supported me from the beginning," she said. "They've never ever told me to get a real job."
Stokes is also grateful for all the support from the area she grew up in.
"I'm super thankful for Claresholm, Stavely, Nanton, Granum," she said. "It's cool to be from there.
"I appreciate all the local support."
Moving foward, Stokes will continue recording and performing, with a record coming out soon and a trip to the Junos in March.
"We're going to continue what we're doing," she said.