Local Musician releases new album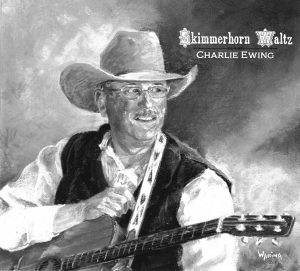 By Rob Vogt
Local Press Writer
Local musician Charlie Ewing has woven memories and bits of his life into the songs that make up his latest CD, entitled "Skimmerhorn Waltz".
The CD is made up of 12 songs – eight are brand new; three are his own songs that he has re-recorded; and one is a cover of the Ian Tyson song, "Old Cheyenne".
This time around, Ewing enlisted the help of his friend Ben Crane of Eckville.
Crane is a musician, artist and has his own recording studio.
On top of all that he has access to studio musicians.
When you mix that all together you come up with "Skimmerhorn Waltz".
The title track takes its name from the butte running behind Ewing's ranch west of Claresholm.
He observed how there are a lot of places named after people who settled the area more than 120 years ago.
They travelled the area, until the outbreak of the First World War in 1914.
"Some never came back," Ewing said.
He started thinking about what it would be like for a soldier in Europe during wartime.
The result is "Skimmerhorn Waltz," a song about a serviceman in Belgium in the First World War thinking about home and dancing with his girlfriend.
Another song is, "The Belle of Buffalo". It's a song about Ewing's mother who was actually from Buffalo, New York.
There are also songs about the cowboy blues, and working dogs, and so much more.
If you want a taste of what Charlie Ewing sounds like, he has been posting songs on his Facebook page "Charlie Ewing" since the outbreak of the COVID-19 pandemic.
"I've been doing it almost every day for two months," he said.
Ewing has some CDs available for sale for $20 at Willowtree Designs, or people can order them online through his website www.charlieewing.com.