Dynamic Claresholm kicks off with survey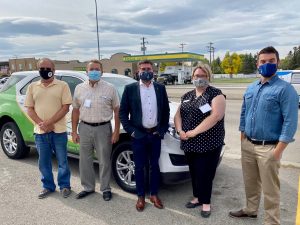 By Rob Vogt, Local Press Writer
Teams of two hit the streets of Claresholm recently armed with a survey asking business what they see as the challenges, successes, risks and opportunities they are facing right now.
It was Phase 1 of Dynamic Claresholm, which kicked off on Sept. 23.
Brady Schnell, the Town of Claresholm's economic development officer, said Dynamic Claresholm is a partnership of the Claresholm and District Chamber of Commerce and Community Futures Alberta Southwest to take advantage of a Labour Market Partnership grant offered by Alberta Labour and Immigration.
"It is a dynamic project," Schnell said.
Phase 1 is gathering data, and started with the business survey on Sept. 23.
Schnell noted it is a follow-up to business visits Schnell did in 2018, and visits his predecessor Justin Sweeney did in 2016.
"It's been part of our practice for years," he said.
Six teams, consisting of two volunteers each took the afternoon to visit businesses and promote the survey.
Those who attended included representatives of the chamber of commerce and community futures; the executive directors of the SouthGrow and Alberta SouthWest regional economic development alliances; representatives from Alberta Jobs, Economy and Innovation and Alberta Labour and Immigration; and the economic development officer from Cardston.
"It was really exciting," Schnell said.
The survey is 21 questions, designed to identify gaps in the local labour market and identify opportunities in the local job market.
Although the kick-off was Sept. 23, the survey remains open until Oct. 16. It is completely online for business owners in Claresholm, Stavely, Granum and the Municipal District of Willow Creek.
Schnell said the survey is completely anonymous and confidential for use by the Town of Claresholm.
He said more than 50 businesses have completed the survey already.
However, the business survey is just part one of the first phase of Dynamic Claresholm.
There will also be a residential survey, with an invitation going out in utility bills to participate in that survey.
Phase 2 is a strategic planning session for the chamber of commerce on Oct. 17. All business owners are welcome to attend, but anyone interested is asked to contact the chamber of commerce in advance.
Phase 3 will be an employment conference and job fair in the spring of 2021.
Schnell said the event will happen one way or another, depending on the course of the pandemic. In any case, all health guidelines will be followed.
He pointed out a lot of people questioned the town's involvement in the Rural and Norther Immigration Pilot project, which is designed to address a labour shortage.
Schnell said that initiative stemmed directly from his business visits in 2018 which identified a shortage of workers.
Dynamic Claresholm is another look at what the local labour market is like now.
"It's a fresh look at what we have going on," he said.
The survey is available by visiting https://www.surveymonkey.com/r/3T3MND3.