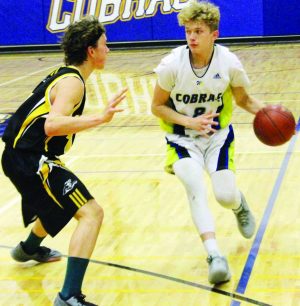 The Willow Creek Composite High School senior varsity boys' basketball team took home fourth place from their home tournament this past weekend.
The team hosted the annual Cobra Classic on Jan. 10 and 11, attracting teams from Vermilion, Three Hills, Lundbreck, Lethbridge, Vauxhall, and two from Calgary.
The Cobras opened play on Friday night, Jan. 10 with a 76-53 victory over Three Hills.
After falling behind 21-18 after the first quarter, Claresholm outscored the Royals 24-3 in the second quarter to lead 42-24 at halftime and never look back.
Scoring for the Cobras were Jackson Wright with 22 points; Ethan Perry with 18 points; Daniel Schuepbach with 16 points; Xander Coates with 12 points; Logan Read with four points; and Willis Dixon and Dhillon Schmirler with two points each.
The win put Claresholm into a semi-final against J.R. Robson of Vermilion, who are one of the top-two-ranked teams in the province.
The Cobras started out strong, jumping out to a 14-7 lead but the Marauders slowly took control, leading 35-23 at the half and pulling away for a 66-48 win.
Scoring for Claresholm were Wright with 15 points; Jackson Hamlyn and Schuepbach with nine points each; Perry with five points; Coates and Read with four points each; and Schmirler with two points.
The loss put the Cobras in the third place game against Livingstone School of Lundbreck who defeated Claresholm by a score of 73-57.
The Cobras led 17-11 after the first quarter, but the Sabres exploded for 27 points in the second quarter to go into the halftime intermission leading 38-28, then led 58-41 after three quarters and cruised to victory.
Scoring for Claresholm were Perry with 21 points; Wright with 17 points; Schuepbach with eight points; Read and Schmirler with four points each; Coates with two points; and Hamlyn hit a foul shot.
J.R. Robson went on to win the tournament, defeating Vauxhall in the final.