Chamber running weekly 'Shop in Claresholm' bingo contest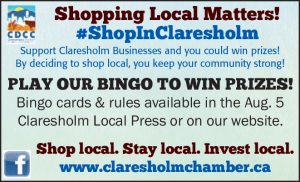 By Rob Vogt, Local Press Writer
It's a chance to play some bingo, win prizes, and support local business all at the same time.
The Claresholm and District Chamber of Commerce kicked off "Shop in Claresholm" bingo on Aug. 8, with bingo cards appearing in the Aug. 5 issue of the Claresholm Local Press.
"It's a way to support local and stress the importance of supporting local business," said Amanda Zimmer, president of the chamber of commerce. "It's free and you can win prizes."
There are four different bingo cards to choose from.
Anyone can enter once they complete one line, and there is no limit on the number of entries.
In order to complete a square, there is an activity or purchase involved. Proof of that activity or purchase, in the form of a receipt or selfie photo, must accompany any bingo a participant is claiming.
For example, if the square says, "Support a local trade", a receipt from a plumber could be proof. Or, if the square is, "Try something new at a restaurant", a photo of the participant with the menu item could be proof.
Zimmer said there will be weekly winners from qualified entries, as well as a grand prize from all entries.
She noted businesses are also still welcome to donate prizes.
Cards were printed in the Aug. 5 issue of the Local Press, and are also available on the chamber website to download at www.claresholmchamber.ca (no dashes or spaces).
"Shop in Claresholm" bingo is free to play and everyone is welcome.
The bingo officially started on Aug. 8 and runs to Sept. 8.
"The rules are simple and include having fun," Zimmer said with a smile.
Anyone interested in more information or contributing a prize can contact Amanda Zimmer at president@claresholmchamber.ca.
You can download your bingo cards here.