Roy wins 16th annual Glen Keeley Memorial Bullriding in Stavely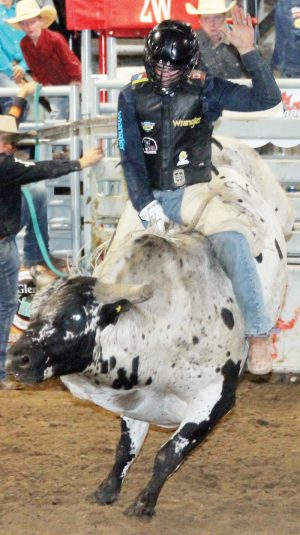 By Rob Vogt Local Press Writer
After coming for so many years and coming close just as often, Aaron Roy finally did it. The bullrider from Yellow Grass, Saskatchewan hung on for eight seconds on two different bulls to win the 16th annual Glen Keeley Memorial Bullriding at the Stavely Arena on Saturday night, Aug. 31. Announcer David Poulsen interviewed him in the arena shortly after the win.
"It really means a lot to me," he said, of winning his first Glen Keeley Memorial Bullriding after coming so close in the past.
It was especially sweet because he rode the same bull that bucked him off in this same event last year. It was a night where the bulls were in an ornery mood. Just six riders stayed on for the necessary eight seconds in the long go round.
Shay Marks of Maple Creek, Saskatchewan led with a score of 88; followed by Cody Casper of Newport, Washington with an 86; Jake Gardner of Fort St. John, B.C. with an 85.5; Jared Parsonage of Maple Creek with an 85; Brock Radford of DeWinton with an 81.5; and Roy with an 80. The final four who made the short go round were the riders who held on the closest to eight seconds – Roy again; Wade Marshall of New Zealand; Nick Tetz of Calgary; and Wyatt Laughlin of Lundbreck. Three of the first four riders in the short, or championship round, were bucked off. Roy was the only one who hung, for a score of 84.5. Since he had been bucked off in the long go, his total was 84.5. He then returned for his second ride of the final. He already had a score of 80, but had five riders with better scores ahead of him. He had to turn in a solid score for a chance to win. He did.
Roy hung for an 88.5, the highest score of the night, for a total score of 168.5. Yet he had to wait. Radford – bucked off. Parsonage – bucked off. Gardner – bucked off. Casper – bucked off. That left Shay Marks with the only chance to win. He too was bucked.
After all the dust had settled, Aaron Roy was the 2019 Glen Keeley Memorial Bullriding champion. Several other awards were also presented. Gardner was named the spur ride champion. Marks was named the champion of the Summer Dominance Tour, which included events at Hussar, Coronation, and concluding in Stavely, where he won $5,000. Chase Tkach was the junior bullriding champion and Hayden MacKay won the steer riding. Dale Butterwick was presented a legacy buckle for all his work in rodeo and sports medicine. Four scholarships were also presented, to Kade Christianson; Kristina Johnson; Odin Orsten; and Taylor Wells.