Residents learn about new recycling program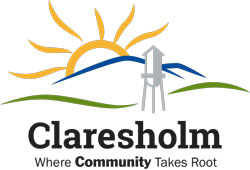 By Rob Vogt Local Press Writer
When the town's new recycling program hits the streets of Claresholm, likely in early November, it will be able to accept a wider range of items and no longer require residents to buy their own clear-plastic bags.
However, the cost will rise from $6.56 per month, to $10.30 per month. This rate has not been changed since 2014.
About 120 people attended an open house hosted by the Town of Claresholm on Sept. 19 at the seniors' drop-in centre to hear about the new recycling program from Blair Bullock, the town's director of corporate services. He explained that currently the town can recycle four different items – cardboard; paper; tin; and hard plastic. This limitation is due primarily to the fact the previous contractor would not take other items, and a lack of space for town staff to hand-sort, compact, store and ship more than four types of material. The current program also requires residents to bag their recyclables in "non-recyclable" clear bags which is an additional cost and hassle to residents. Businesses also currently don't qualify for pick-up service and have to deliver their recycling to the town's recycling sorting centre.
The new program accepts more items, in addition to what is already accepted, including glass; aluminum foil; plastic bags, bubble wrap, cling wrap and so on; and beverage containers, although no deposit will be given. In October or the first part of November, blue bins or totes will be delivered to all residential customers, except apartment buildings, and businesses with low volume recycling. All businesses are being contacted to determine what type of service they want or require.
Information and a schedule will be attached, including a pick-up schedule and what can and can't be put in a bin. On the day of pick-up, bins should be rolled to the street next to the curb by 7 a.m., and not prior to 7 p.m. the night before. After pick-up, residents must roll them back onto their property. Apartment buildings and some businesses will have a shared cart service.
A large six-yard bin will be available to put in all recyclables. Businesses or institutions with high-volume needs can have their own six-yard bin.
Pick-ups should start in early November, after blue bins are delivered. The exact date will be in the information that comes with the bin. Pick-up will be once every two weeks. Additional six-yard bins will be available at the town shop to deposit overflow or oversized items that do not fit easily into blue bins. Until the first pick-up, town staff will continue with the same recycling pick-up.
Recyclables will be collected by Environmental 360 Solutions who will take the recyclables to an automated sorting facility in Calgary.
All recyclable materials must be contained within the bin. Collection is automated with a truck, and they will not be getting out to collect additional or oversized items left beside any bin. No sorting is required.
No bags are required. Do not bag recyclables, except shredded paper and plastic bags/film. Recyclables should remain loose in the bin.
Collection will continue to be at the front of the property. Bins should be rolled onto the street with the wheels against the curb. Residents should return their bins to their property to avoid getting hit by a vehicle or the wind blowing them away. Replacement due to lost or damaged bins will be at the resident's cost, at $110 for a replacement bin.
Bins are numbered, so the town knows if a resident is utilizing another bin.
There will also be a spot on the bin to write the house number.