Reid rides to big victory; Conservatives win majority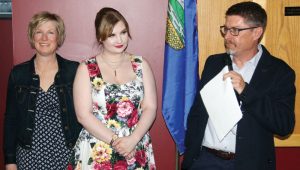 By Rob Vogt, Local Press Writer
The United Conservative Party will form the next provincial government in Alberta.
The Conservatives won a resounding majority on election night, April 16, taking 62 out of 87 seats, defeating the governing New Democrats who were reduced to 25 seats.
In Livingstone-Macleod, Claresholm native Roger Reid, running for the Conservatives, cruised to victory.
With 97 out of 100 polls reporting, Reid had 16,284 votes, while Cam Gardner of the New Democrats had 4,759 votes; Tim Meech of the Alberta Party had 1,159 votes; Vern Sparkes of the Alberta Independence Party had 395 votes; Dylin Houser of the Alberta Liberal Party had 245 votes; and Wendy Pergentile of the Green Party had 230 votes.
Reid attributed his success to working hard, noting he was on the road a lot.
"I spent a lot of time listening to people and their stories," he said.
What he heard was a lot of concern about the economy and jobs.
He heard stories of people who were still working in the oil and gas industry but had moved to North Dakota or Colorado, where the work is.
He also heard how small business was hurting with less revenue coming in, and how farms and ranches had extra expenses added.
At the end of the day, people just want the economy to get on track, he said.
Reid was also very happy with the performance of the Conservatives provincially.
"We've stayed on message," he said, as they proposed solutions and talked about issues important to Albertans.
Going forward, his priorities when he gets to Edmonton will start with an orientation for MLAs.
"We'll be at it right away," Reid said. "I'm ready to get to work."
To start with, the Conservatives will repeal the carbon tax and bring in the small business tax cut, two election promises they made.
"Then we'll start to take it from there," Reid said.
When asked about any fear or hidden agendas the Conservatives may have, and opponents accused them of having, Reid reassured Albertans.
"Everybody has a flaw," he said. "We've all done things in the past we're not proud of."
However, most people who want to serve Alberta have integrity.
"We grow in integrity as we get older and get wiser," Reid said.
He also paid tribute to his opponents in Livingstone-Macleod.
"I have deep respect for the other candidates because this is an awful lot of work," Reid said. "They're passionate about the province."
He hoped everyone could work together in a spirit of cooperation.
"At the end of the day we need to be working for the same goal," he said. "That is to make Alberta awesome."
His plan locally, is to open constituency offices in High River and Pincher Creek, depending on the resources he has available, so he can connect with all constituents.
Overall, he said the message voters sent was clear.
"They're tired of not being listened to and not being engaged by this government," he said.
Reid intends to change that by spending a lot of time talking to people in the riding.
"I'll be living in my vehicle is my expectation."