Public hears about multi-use buildings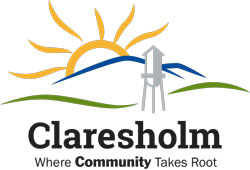 By Rob Vogt Local Press Writer
The Town of Claresholm is holding a plebiscite, asking the public if it can borrow $2.8 million to construct two multi-use buildings – one across from West Meadow Elementary School for a new playschool and day care, and the other on the site of the former Claresholm Elementary School for a town office and community space.
About 120 people attended an open house at the Claresholm Seniors' Drop-in Centre on Sept. 19, to hear Marian Carlson, the town's chief administrative officer, describe the project. She explained the project began in 2013 when the Livingstone Range School Division made the former Claresholm Elementary School building available.
The initial intention was to transform that building into a community multi-use building and town office. The town hired an architect to look at a re-design, arriving at a cost of $3.8 million.
However, there have been significant building and energy code changes. The town hired a third-party cost consultant to work through the estimates. That work resulted in a cost of $5.5 million for renovation.
Ultimately, council decided that was beyond the scope of their budget, and alternatives were sought.
The committee looking at the project met with potential partners in the facility such as The Station, Lethbridge College, Family and Community Support Services, the playschool, and day care. A needs assessment for required space was done with the following space allocations of 2,900 square feet for the day care; 1,500 for the playschool; and 6,500 for the multi-use facility, for a total of 10,900 square feet.
The original renovation space was 26,000 square feet. The decision was then made to create two buildings. The day care and playschool will be at a site provided by the school division north of West Meadow Elementary School adjacent to the before and after-school-care programs. The multi-use facility will be on the site of the former school. If the project proceeds, a public tender will be sent out as a design/build project, allowing the contractor to find efficiencies in design. The town has space allocations, square footages and ideas on layouts, but when code requirements come into play, a design/build will take all of that into consideration.
The multi-use facility will include: two meeting rooms that can be used for public groups; a large council chambers, that can also be for other purposes such as training; additional offices that can be used by groups or organizations; and accessible washrooms, and separate/secured entrances for after-hour meeting space use. Carlson then explained why the decision was made to build new. There will be new energy, fire and building code compliance without retrofitting or trying to fit programming within built structure walls.
A new design allows for more efficient flow of space. A move to a new site, for the day care and playschool, requires a new build. It is an ideal location discussed with the day care and playschool. The location is close to the school and care programs which will assist with programming, staffing and drop-off and pick-up. No costly elevator or lift is required. There will be additional space for children currently on waiting lists and room on site for expansion.
The multi-use facility will be a larger, more functional facility for public open houses, and a larger gallery for public attendance at council meetings. There is also room on both sites for expansion or additional partnerships. Carlson then described the concerns with the current building that houses the town office, day care and playschool. There are stairs that cause accessibility issues; it has a crowded/inefficient design; no room for expansion; limited storage; temperature control is difficult; and repairs are costly. Additional benefits include a safe parking lot for drop-off and pick-up; a wide-open floor plan for the playschool with space for movement activities and increased sight lines for supervision; close proximity to the elementary school for ease of travel of teachers and therapists; a wheelchair accessible washroom to accommodate everyone, so the playschool and day care can have age appropriate facilities and sinks; more heat regulation as the current space has an inconsistent boiler/water heating system; and visual appeal for people new to the community. The current location is also hard to find.
There are additional building concerns. In 2019, $800 was spent for a lift; $6,500 to replace a failed air-conditioning unit; and $3,500 to replace expired smoke detectors. The current building is more than 70 years old, with original plumbing and electrical in much of the building. Sewer pipes in some areas are completely rotted out. The cost for full replacement of plumbing in the building is estimated at $300,000. The elevator/lift in the building is approaching its useful life and would cost an estimated $100,000 to replace. There are concerns regarding the materials within the building from a health perspective due to asbestos. Air quality testing has been done to insure safety but this is not a long-term solution. Asbestos remediation is estimated at $100,000. The stairs to the offices and food bank are in poor condition, and the food bank is in the basement, in small rooms, which is a less than ideal location.
Carlson then talked about financing the project. The town's current debt is just over $4 million, and its debt limit is just more than $10.5 million. She explained what borrowing $2.8 million would mean to residents. That $2.8 million would be financed over 30 years. It is not subject to inflation or re-financing. Once the borrowing occurs, the rate is locked in for those 30 years. The rate is 2.661 per cent, making the annual payments $136,080 or an average of about $68 per year per property.
There would be additional savings with all town operations and services in one facility and no annual maintenance on the existing building. There would be additional grant funding, revenue from the sale of the existing location, and/or competitive tender prices that decrease costs. The multi-use facility will have community space for events and meetings, as well as storage and office space to house organizations such as Lethbridge College, or The Station. Discussions are on-going with other user groups as well, such as the food bank, to ensure all user groups have appropriate space.
"We can't begin the project until the borrowing bylaw is passed," Carlson said, noting if the plebiscite fails the project could not proceed as proposed. In that case, council will have to find alternatives to fund the project if it is to proceed. That could mean tabling it, adjusting the project, or scrapping it altogether.
Voting day for the plebiscite on the borrowing bylaw is Monday, Sept. 30 at the community centre from 10 a.m. to 8 p.m., with the advanced poll in the same location on Sept. 26 from 2 p.m. to 8 p.m. There is also institutional voting at various locations. Carlson encouraged everyone to vote.
"It's important for council to have a clear indication from the community," she said. "Council needs your direction."