History lives Trailers converge on Claresholm for vintage rally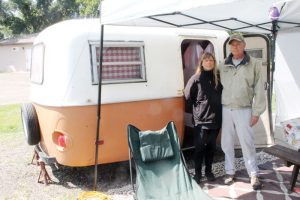 By Rob Vogt Local Press Writer
It was no ordinary walk in the park this past weekend at the Centennial Campground, but a walk down memory lane. Approximately 20 vintage trailers descended on Centennial Park from Aug. 16 to 18 for the second annual Vintage Trailer Rally and TeePee Homecoming. The TeePee Trailer was manufactured 50 years ago in Claresholm at Safeway Shelter Systems, and three of them came for the rally.
"This has been incredibly successful," said organizer Terri Mason. The rally was sold out by late February or early March, attracting participants from Rocky Mountain House, Lloydminster and Calgary in Alberta; Maple Creek, Saskatchewan; and East Selkirk, Manitoba, as well as local enthusiasts. Trailers began arriving on Friday night, battling rain. "It's always good to go through a test like that," Mason said. "It gives you confidence."
Moreover, not one leak was reported, and two trailers were even on their maiden voyage. The actual rally began Friday night with the "Fantastic feast" potluck supper, and the annual reading of the teepee trailer poem. Saturday featured a vintage trailer tour where all the participants gathered in a group and moved from trailer to trailer, with the owners taking turns to give the history of their trailers. "This is something everybody takes great pride in," Mason said. "How they rescued these (trailers)."
The day concluded with a lawnchair movie night showing of "RV" starring the late Robin Williams. Sunday, everyone pulled up stakes and headed home. There were three teepee trailers on site this year. Mason brought one, a 1967 Tee Pee Trailer called Miss Adventure. She acquired it about three years ago from a young man from Seven Persons, near Medicine Hat, who dug it out of a gravel pit. Since then, she has re-painted it, replaced the back window and added a very special blanket for the bed.
Awhile back a friend of hers was dying of cancer and asked Mason to speak at the funeral. Her friend Doris was a cowboy poet, so she asked Mason to read a poem. A month later, she phoned back asking to read a different poem. After her friend died, Mason fulfilled her promise and read that poem at the funeral. In turn, her friend had arranged for a gift card for Mason to use at a local store. Her friend was a red head, who could only wear a few colours. Mason was reminded of this when she saw this Pendleton wool blanket. She thought it had a colour her friend would wear, so she got it.
"Every time I go camping, Doris goes with me," Mason said. She actually owns two teepee trailers, the other one parked in her backyard as a permanent guest house. Randy and Sherri Iceton of Claresholm did not have to travel too far to bring their 1974 Boler Trailer to the rally. They found it on Kijiji and have transformed it into a tribute to Canada.
The trailer has red and white sheets, cabinet, and fridge, a 1967 Centennial pillow, and of course a Canadian flag in the window. "We've done a lot of work," Sherri said.
A counter was cut out to make room for a bigger fridge and particle board has been replaced with wood. The interior is done, and now they plan on doing some work on the exterior. They were at last year's inaugural rally, and braved Friday's rain to come again this year.
"It's great," Sherri said. "We had a little rain, but it didn't dampen our spirits," Randy added, noting they have met a great bunch of people. Eva Haug was back again as well, hauling her 1963 Teepee Trailer down from Edmonton. She found it on Kijiji as well, when she was looking for a small, inexpensive trailer. Only later did she discover its vintage value, and the community that surrounds Teepee Trailers.
"It pulled me into a whole new world," she said. She has also discovered hers was one of the first models built. Haug has had the logo re-done from a photo of the original, and is in the process of painting it white with purple stripes. By all accounts, the Vintage Trailer Rally and TeePee Homecoming was a success, and will be back again next year on the same weekend in August at the Centennial Park Campground.
"It works well for everyone," Mason said.