High school crowns 2019 junior prom royalty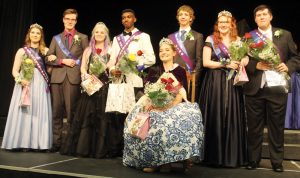 By Rob Vogt, Local Press Writer
Willow Creek Composite High School crowned its junior prom royalty for 2019, with a theme of "Movie Monopoly".
It was another dazzling evening of speaking, dancing, and performing at the Claresholm Community Centre on Friday, May 10 as candidates showed how far they have come over the past year.
Once all the judges' marks were tallied, the winners were:
Queen, Bailey Gustman;
King, Daniel Schuepbach;
First princess, Sage Kennedy;
First prince, Edison Bray;
Second princess, Kassidy Kutsch;
Second prince, Mapalo Chisanga;
Miss Congeniality, Jaclyn Wicks;
Mr. Congeniality, Mapalo Chisanga.
All the candidates took dance lessons, and showed what they learned with a demonstration at prom.
Awards were presented in three dance categories:
Rumba, Bailey Gustman and Mapalo Chisanga;
Foxtrot, Robbie Hoffman and Sage Kennedy;
Waltz, Samuel Morton and Kassidy Kutsch