High River Flyers Team Captain, Michael McTighe to represent Canada in Naples, Italy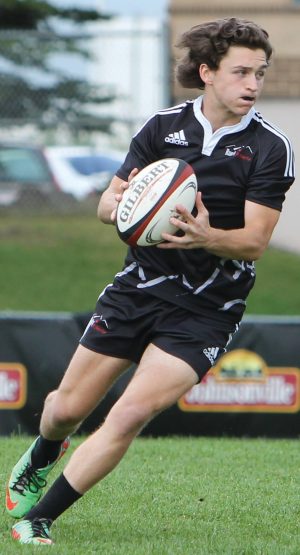 HIGH RIVER, AB: The High River Flyers Team Captain, Michael McTighe will represent Canada at the 2019 World University Summer Games in Naples, Italy playing Rugby Sevens.
At 19 years old, McTighe is 1 of 300 student-athletes who will compete the World University Summer Games that is also known as the Summer Universiade. Summer Universiade is the combination of the Italian words "Universita" and "Olimpiade", meaning University Olympics and is just second to the Olympic Games.
Michael plays for Bow Valley Grizzlies in the Calgary Rugby Union's first division.
He has represented Alberta three times at nationals. He won gold at U18 nationals in 2017, and U18 bronze with the Alberta sevens team that same year.
Michael is studying for Bachelor of Education and a Bachelor of Science degrees and will enter his second year in the fall at the University of Lethbridge.
Entering his 5th season, the High River Flyers Most Dedicated Player of 2018/19 is clearly a leader on and off the ice.
This year's games will run from July 3-14 and will feature over 93, 000 athletes from 128 countries.
The Opening Ceremony will be held on July 3 at 9:00 pm local time. The full schedule is available here.