Cobras take third in dramatic fashion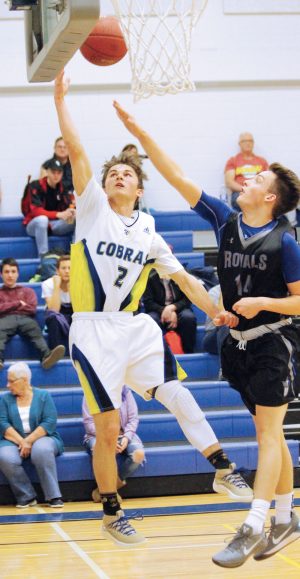 By Rob Vogt, Local Press Writer
There was high drama at Willow Creek Composite High School on Saturday night as the host Cobras rallied for a dramatic win to take third place in the annual Cobra Classic basketball tournament.
With two minutes to play, Claresholm found themselves trailing the Camrose Composite Trojans by a score of 63-57.
Cobra Ethan Perry scored to close the gap to 63-59, then the Trojans turned the ball over when they inadvertently stepped on the sideline.
The Cobras set up and Perry promptly buried a three-point shot to narrow the margin even further to 63-62.
Claresholm's defence stiffened and George Wollersheim scored to give Claresholm a 64-63 lead.
Camrose tied the game on a foul shot, then on their next possession took a 65-64 lead with another foul shot.
The Cobras had their chance to tie and take the lead, but missed on two foul shots.
However, Perry dove for a loose ball on that second miss, and managed to get it out to Cole Dixon who was standing behind the three-point line.
He squared up and buried another three-pointer, giving the Cobras a 67-65 lead.
Camrose would not go away though. They got two more foul shots, and hit one to close to 67-66 with 11 seconds to play.
However, they got no closer and Claresholm won the game by that same 67-66 score.
Dixon finished the game with 20 points; while Jackson Wright had 14 points; Daniel Schuepbach had 13 points; Perry had 10 points; Wollersheim had four points; and Dhillon Schmirler, Braydon Wiechert, and Daxton Woodward had two points each.
The Cobras were in the third-place game after losing to Our Lady of Mount Pleasant of Camrose in the semi-final by a score of 96-92.
Scoring for the Cobras were Wright with 32 points; Schuepbach with 14 points; Perry and Wollersheim with 13 points each; Dixon with nine points; Woodward with five points; and Xander Coates, Schmirler and Wiechert with two points each.
Claresholm opened the tournament on Friday, Jan. 4, with a 69-50 win over the Three Hills Royals.
Scoring for the Cobras were Wright with 32 points; Dixon with nine points; Wollersheim with eight points; Schuepbach with seven points; Perry with five points; Schmirler with three points; Wiechert and Woodward with two points each; and Coates with a point.
The Cardston junior varsity team won the tournament, defeating Our Lady of Mount Pleasant in the final.
Three Hills defeated Livingstone School of Lundbreck in the fifth-place game; and Eagle Butte beat County Central of Vulcan in the seventh-place game.
lay up – Ethan Perry, in white, of the Willow Creek Composite High School senior varsity boys' basketball team, scores against Our Lady of Mount Pleasant of Camrose in the semi-final of the Cobra Classic basketball tournament on Saturday, Jan. 5. For more coverage please see page 10. Photo by Rob Vogt