Swimmer carries flag, competes at Alberta games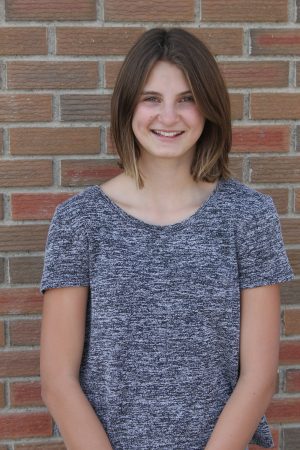 Youth in action
By Rob Vogt, Local Press Writer
A local swimmer represented the area well at the recent Alberta Summer Games, both in and out of the pool.
Lydianna O'Neil, 13, and a Grade 8 student at Willow Creek Composite High School, travelled to Grande Prairie for the games, held July 19 to 22, where she competed in eight swimming events.
Her top finishes were third in the four-by-50-metre freestyle relay; fourth in the 100-metre individual medley; fifth in the 50-metre butterfly; and fifth in the 100-metre freestyle. She finished no lower than eighth in all eight events.
She qualified for the games by attending tryouts in Canmore at the start of the season.
"You had to swim all four strokes," O'Neil said. "If you placed in the top three, you made it to Alberta Games."
Swimmers could qualify for a maximum of six individual events and two relays.
"You got to choose what events you were in," O'Neil said.
Another exciting part of the games was that O'Neil was one of two athletes chosen to carry the flag for her zone in the opening ceremonies.
She earned that honour by posting a video on Instagram that promoted sportsmanship, camaraderie, and wished everyone the best of luck in the games.
"I got chosen to carry the banner," O'Neil said.
"We came out carrying out the banner," she added. "And we walked around so everyone could see us."
The speakers for the ceremonies talked about service and how important it was to appreciate all those who support the Alberta Summer Games.
Zone 1, which was O'Neil's team, finished last, but they had just 11 swimmers compared to the 42 swimmers every other team had, so it was a good showing.
"We did fairly well," O'Neil said.
However, the results in the pool were only part of the experience.
"I felt really honoured to be there," she said.
O'Neil competes in summer club swimming, which ends its season shortly. A lot of the swimmers at the games belong to winter clubs, where they swim a lot more.
She knows some of those swimmers, and met a whole lot more.
"I met a lot of people which was a good experience," she said. "It was just a great experience to be with them and learn what they do."
Moreover, she went into the games thinking she may place maybe 10th at best.
"Just to know you can compete up there with them feels awesome," she said. "It was awesome."
Up next for O'Neil was the outdoor swim season's regional championships in Lethbridge this past weekend and the provincials in Edmonton coming up.
After that, she is thinking about joining the winter swim club in Lethbridge.
"I guess my long-term goal is to get to the Olympics," she said.
Photo
flag bearer – Claresholm's Lydianna O'Neil, a local swimmer, was the flag bearer for Zone 1 at the recent Alberta Summer Games in Grande Prairie. Competing in six individual events, and two relays, she finished no lower than eighth. Photo by Rob Vogt