Stavely school jumps rope for heart, stroke research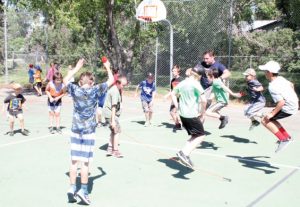 By Rob Vogt, Local Press Writer
Students at Stavely Elementary School took to the tennis courts last week to jump rope to raise funds for heart and stroke research.
In the end, they raised $950 with money still coming in, so the total will exceed $1,000.
Proceeds go to the Heart and Stroke Foundation, who have been hosting the Jump Rope for Heart for 36 years.
Trish York, coordinator, fun development, Lethbridge for the Heart and Stroke Foundation was at the school to see the students Jump Rope for Heart.
"It's amazing they raised about $1,000 for us," she said.
The funds raised go to research and understanding heart disease and stroke.
"It's important they learn about healthy hearts and healthy brains at this age," York said.
The Jump Rope for Heart was part of the school's John Norgard Family Fun Day.