Poulsen releases third in mystery series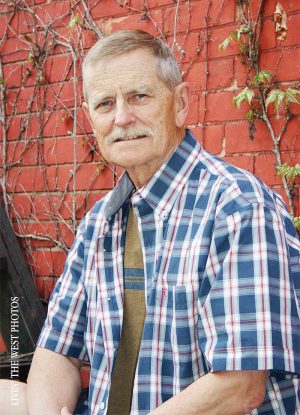 By Rob Vogt, Local Press Writer
A singer is abducted from a back alley in Calgary in 1965 and never seen again.
Now, more than 50 years later her granddaughter wants answers.
The only place she can turn to is Mike Cobb, an ex-cop turned private investigator, and Adam Cullen, a one-time crime-writing journalist.
This is the setting for Claresholm author David Poulsen's "Last Song Sung", the third book in his Cullen and Cobb mystery series, which was launched two weeks ago.
"They take on an extremely cold case," Poulsen said.
The book opens on Feb. 28, 1965, when a young singer named Ellie Foster stepped into the alley behind The Depression, a Calgary folk club where she shared the bill with Joni Anderson, later to become famous as Joni Mitchell.
During a cigarette break in the back alley, Foster was forced into a car and bandmates were shot and killed. The investigation that followed turned up no sign of the kidnappers, and Ellie Foster was never seen again.
Now, more than 50 years after the singer's disappearance, Foster's granddaughter approaches Cullen and Cobb to try to find out what happened to her grandmother.
The search for the truth about Ellie Foster takes the two investigators deep into a sinister and dangerous past. They find themselves investigating a failed political assassination and discover that there are those who will stop at nothing, even half a century later, to ensure that certain secrets remain untold.
Poulsen said the idea for the book came in part from an interview he heard about Chris Carter, creator of the TV show "The X-Files".
"A lot of times it's a place that will trigger a thought," Poulsen said, especially in a mystery.
Such was the case with The Depression and that period of time.
Poulsen wondered, wouldn't it be neat to use that as the setting for his next mystery.
The result is a book that has already garnered positive reviews from the likes of Ron MacLean, host of "Hockey Night in Canada" and musician Amos Garrett who was there during that same period of time.
"The reviews have been solid so far," Poulsen said. "It's been exciting – the early momentum of 'Last Song Sung'."
The book is available at bookstores such as Chapters and the Owl's Nest as well as on Amazon.
"It's definitely out there for people to get," Poulsen said.
Currently, he is working on the fourth book in the Cullen and Cobb mystery series, and other children's book, and a few shorter works.