Local students show their Skills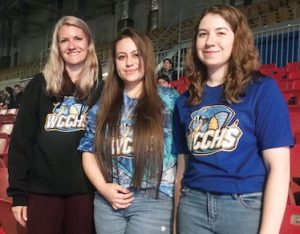 Two travel to Edmonton for provincials
By Rob Vogt, Local Press Writer
Two students from Willow Creek Composite High School advanced all the way to the provincial finals in the Skills Canada competition.
Mary Al Sleiman took home gold in hairstyling intermediate and Jaclyn Wicks won silver in hairstyling junior at the South West Regional Skills Canada Competition held at Lethbridge College recently.
Al Sleiman won a $500 scholarship and Wicks won a $250 scholarship.
Kaelan Shimp took bronze in hairstyling intermediate and Tanner Ling participated in culinary arts.
This competition connects students to local post-secondary and industry leaders.
Students compete in one of 13 event areas: automobile technology; baking; cabinet making; carpentry; culinary arts; fashion technology; graphic design; hairstyling junior; hairstyling intermediate; photography; public speaking; video production; and welding.
The first and second place finishers in each area advanced to the 26th Provincial Skills Canada Competition in Edmonton.
Al Sleiman and Wicks were accompanied by their cosmetology teacher Amanda High who provided support and encouragement, as they competed against 21 other students in their categories.
Al Sleiman then finished eighth in Alberta, while Wicks finished 10th in the entire province.
A total of 700 students from across Alberta participated with the gold medallists in each area advancing to the 2018 Skills Canada National Competition, also in Edmonton.
More than 850 high school students participated in nine regional and qualifying Skills Canada Competitions to earn a spot at provincials.